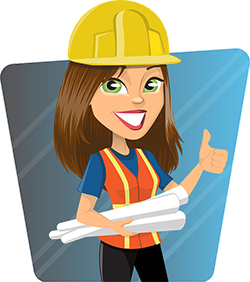 As a general contractor or subcontractor, you prioritize safety on every job site. A site-specific safety plan (SSSP) is one document you must have to fulfill OSHA requirements and establish guidelines that protect everyone who works on the project.
Consider these tips for writing a thorough site-specific safety plan.
Write a Unique SSSP for Each Job
Each construction project you perform will require a unique SSSP, so don't recycle SSSPs from past jobs. Write a new SSSP that addresses specific challenges for each project.

Cover All Your Bases
In general, an SSSP will be thorough for each project and cover a variety of areas, including:
Job hazard analysis
Safety chain of command and related roles and responsibilities
Methods for managing tiered subcontractors
Hazard communications
Training qualifications
Daily safety huddles
Methods of work procedure
Disciplinary action plan
Incident response plan
Crisis plan
Housekeeping plan
Fall protection plan
Equipment crane plan
Address each of these areas, if applicable, in your SSSP.
Assign Roles and Responsibilities
Whether you're the GM or a subcontract on the job site, include the roles and responsibilities in your SSSP. This section identifies and names the project manager, emergency contact person and competent person and the responsibilities these key personnel will take for the major safety components on the job site each day.

Create a Thorough Incident Response Plan
Despite your best efforts, accidents can happen on any job site. The incident response plan outlines the steps your contractors should take if someone suffers an injury, property gets damaged or equipment breaks. Most incident response plans require investigation forms, witness statements, at least one post-incident meeting and drug and alcohol testing for involved employees.
Specify Required Training
Your SSSP will include documents that prove that each worker on the job site has professional training for their job. You may require certification proof or another document as you ensure the competence of each worker to perform his or her job properly and safely.
Update the Job Hazard Analysis as Needed
The job hazard analysis (JHA) should include the project's tasks, hazards and safety controls. It must be detailed and cover all aspects of the project from start to finish. You will update the JHA as your project progresses, and the daily huddles can supplement the JHA since you can list the day's hazards and controls on the daily report form.
On your construction site, you face multiple hazards each day. Write a site-specific safety plan that addresses hazards and outlines safety procedures. For more information on what to include in a SSSP and how to ensure safety, talk to your insurance agent.