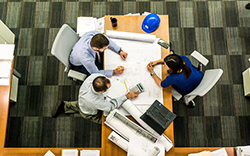 A project architect or engineer typically carries responsibility for the design of a house, high rise or other structure. However, contractors now also play a role in project design and may be liable if something goes wrong. Consider the benefits of purchasing professional liability insurance and the process for gaining this valuable coverage for your contractor business.
What is Professional Liability Insurance?
Contractors like you already purchase general liability insurance. It protects you if the actions of you or an employee cause bodily injury or property damage on the job. Professional liability insurance adds another layer of protection. It covers negligence and design errors that may occur as you take on a variety of job site responsibilities.
Contractor's Professional Risk Exposure
In today's construction projects, contractors may do more than build the design that's created by an architect or engineer. For example, you may be responsible for hiring a design firm, designing certain aspects of the project or altering a current design to incorporate more functional features. In addition to the design responsibilities, you may assume professional liability risks because you hire independent contractors, estimate costs for a project and schedule projects.
Why Purchase Professional Liability Insurance
The numerous tasks you perform as a contractor carry liability risks, and you face a variety of situations for which you are responsible.
Design errors and omissions
Time delays
Budget overruns
Required rework
Third-party bodily injury
Property damage
Pollution damage
To cover these liabilities, you could pay the associated costs out of pocket or purchase professional liability insurance. This policy can take care of your financial responsibility, offer a layer of protection and reduce risks that jeopardize your company now and into the future.
How to Purchase Professional Liability Insurance
Contractors who need professional liability insurance may purchase it in several ways.
Add an endorsement to an existing general liability or umbrella policy.
Purchase a stand-alone policy.
Select a separate project policy.
To decide which option is right for your company, consider the types of projects you do, your financial status and your budget. Individual project contracts may also include details about the type of liability coverage you must purchase. Talk to your insurance agent, too, to verify the availability of the coverage you need and want.
Based on your specific business, duties and job responsibilities, you may need to purchase professional liability insurance for a specific project or as a permanent addition to your contractor company. Talk to your insurance agent about your needs as you ensure you have the right protection for your business.