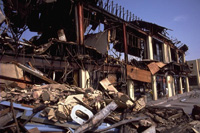 By definition, you operate away from your premises. Let's say that a hailstorm damages two of your bulldozers on a job site – or a carrier transporting one of your backhoes is hijacked at a rest stop. Did you know that Property insurance will not reimburse you for these losses!
To cover loss or damage to construction equipment when it's on the job or in transit, you need an Equipment Floater policy. This type of coverage goes back as far as the 17th century when Lloyd's of London extended insurance on ship cargos beyond ocean voyages to their final destinations. Because this property was essentially "floating," these policies came to be known as Floaters.
Equipment Floaters for construction businesses cover a variety of mobile equipment – from bulldozers and backhoes to forklifts, bobcats, and cranes – when they're away from your premises. (Please note that coverage does not extend to cars, trucks, and vans, for which you should have, Commercial Vehicle insurance).
You can buy an Equipment Floater policy on either a "named peril" basis – which lists the specific risks covered – or as an "all risk" policy – that includes losses from all causes not specifically listed. In most cases, the policy will not pay for losses or damage from such reasonably foreseeable causes as mechanical breakdown, wear and tear, and improper loading or use of the equipment.
As Construction Insurance professionals, we'd be happy to help you choose an Equipment Floater that's best for you. Feel free to get in touch with us at any time.