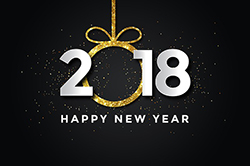 Cyber attacks threaten more than your company's computers. They could affect your company's ability to stay in business. Prepare for a safe and secure 2018 when you boost cyber security.
Update Software Often
Ensure that every device in your network is equipped with anti-virus software and set to update automatically. Commit to check for patch updates, too, often throughout the year.
Use Firewalls
Firewalls protect your computer from many viruses and other malicious content. They can block suspicious content and prevent employees from accessing malicious websites. Double check that your firewalls are working and updated.
Open Email Carefully
Cybercriminals often place viruses, malware and other malicious content in email attachments, or they entice readers to share personal information. Because your employees may receive hundreds of daily emails, host a training and equip them to recognize and avoid threats.
Improve Passwords
Require employees to change passwords every month or more frequently. Also, encourage them not to share their password with anyone, even with coworkers, and never to write down their passwords. For security, passwords should follow several guidelines.
Be hard to guess
Include eight or more characters
Contain a mix of uppercase and lower letters, characters and numbers
Be different for every site
Share Files Wisely
Many companies rely on file sharing, and your employees and clients can collaborate safely when you use cloud-based sharing resources like Google Docs, OneDrive or Dropbox. Remind employees never to share files with strangers, and disable sharing of all hard drives to prevent infections.
Back Up Data
All systems should automatically back up data throughout the day. Now's also a great time to select and begin using an off-site data storage option for greater security.
Perform Regular Security Scans
Legitimate anti-spyware programs scan your computer and remove damaging files, malware and other malicious content. Choose a program carefully, then set it up to scan daily.
Implement a Cybersecurity Team and Safety Protocol Steps
Whether you hire several IT specialists or rely one one chief security officer, your company needs a team who will monitor, prevent and address cyber threats. Additionally, implement protocols that guide your employees on how to address and report cyber security challenges they face like pop-ups, outdated network security certificates or suspicious emails.
Purchase Cyber Insurance   
Insurance can't prevent a cyber attack, but it does cover financial costs associated with breaches. Purchase or update your cyber insurance so you can pay for damages, remediation and other costs that result from a cyber attack.
Cybersecurity threats affect hundreds of businesses every year. These steps boost your security and prepare your business to stay safe in 2018.