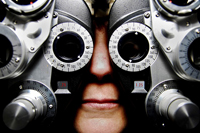 Prescription eyeglasses can cost as much as $1,000. In addition to the professional exam, other factors like which frames you choose, scratch-proof protection and UV coating on the lenses, where you buy glasses and the co-pay can affect the cost. Even with vision care benefits, you may be unable to afford glasses, and without them, your vision, health, work and social life can suffer. Afford the prescription eyeglasses you need with several tips.
Understand Your Vision Plan
Your vision plan includes details like how often you're eligible for eye exams and new glasses and which eye doctors and eyeglass retailers are in your covered network. Read your vision plan coverage carefully so that you can take advantage of all your eligible benefits. You also save money when you visit an in-network provider.

Buy a Repair and Replacement Plan
When you buy your eyeglasses, ask if they offer a repair and replacement plan. It allows you to receive a new pair of glasses if you break, scratch or damage your pair, and it can save you money since you won't have to replace your glasses.

Shop Around
Once you have a valid prescription, you can shop anywhere. Check out different eyeglass retailers to possibly find what you like for less.
Use Coupons
Many retail eye care businesses offer special deals to attract new customers. Check your local newspaper, online ad boards and retailers' websites. Here, you can find coupons that cover exams, frames and eyeglass package deals.
Buy One Get One
Eyeglass retailers sometimes offer buy-one-get-one deals. Even though these deals may only cover discounted or low-end frames, they save you money.
Check out Back-to-School Sales
Every summer, many eyeglass retailers host a back-to-school sale. It allows students to stock up on new eyeglasses, and it's available for adults, too. Use the sale to buy a new or second pair of glasses.
Look at Your Club Memberships
Certain auto clubs and other organizations like AARP partner with local businesses to offer discounts to members. Look at your membership booklet and benefits for discounts at eyeglass retailers.

Shop Online
Online stores typically charge less than brick and mortar stores, and they may also give you free shipping and other discounts. Be sure the online store is registered with the Better Business Bureau, and read the return policy since you can't try on the glasses until they arrive in your mailbox.
Prioritize your eye health with regular eye exams and the correct prescription lenses. While your vision insurance benefits may cover your eye care needs, use these tips to save money as you take care of your eyes.