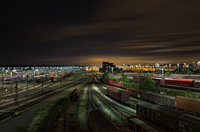 Railroad insurance is required for covering general liability concerns, and since railroads stretch from state to state, railroad companies generally go for a fairly robust policy in order to ensure that they're covered no matter what the local laws dictate.
Here's one thing they're not required to cover in any of the fifty states in the nation: Cargo.
If you're new to shipping cargo by rail, this might come as something of a shock. Ships, truck drivers and delivery services typically cover what they carry. Railroad protective liability might not cover cargo at all, unless the company shipping your goods choose to do so of their own accord.
In other words, if you're shipping through a railroad company, you may wind up needing to provide your own insurance to keep your cargo safe. You have two basic options here:
Ask About Getting Covered Through The Railroad's Policy
Although railroad companies are not required to insure the cargo they carry, they might have an option for covering your cargo through their provider. The upside to this is that it's neat and simple and you usually wind up paying less than if you covered it yourself. The downside is that the coverage might not be as comprehensive as if you were to cover the cargo through your own provider. Your best bet is to look at what your provider can do for you, compare it to your shipper's deal, and see which plan you like better.
Cover It Through Your Provider
Most business insurance providers have policies set up to cover cargo as it is shipped by rail. The major upside to covering your cargo through your business policy is that you can get it covered for the entire trip through a single plan. A railroad doesn't drop your cargo off right at the retailer's back door, rather, it has to get there by truck. Covering the cargo through your provider will make it easier to cover it for the whole trip.
In that the railroad company is not likely to be held liable for any lost or damaged goods along the way, the general rule of thumb is: The more comprehensive your coverage, the better. An excess coverage policy, for instance, may be a little pricier than letting your umbrella policy handle the job, but it also ensures coverage to a higher value, and against a wider range of mishaps.