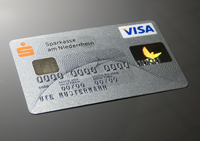 Credit cards are used by millions of consumers every day. Your small business probably accepts credit cards, too, to accept payments in-store or online. New chip-based cards or EMV-enabled cards – named for developers Europay, MasterCard and Visa – provide several safety benefits you should understand as you decide whether or not to switch to a chip reader.
Chip Cards are Difficult to Reproduce
Magnetic stripe credit cards are easy for thieves to copy. Chip-based cards are more difficult to reproduce.
There are two basic chip-based cards, chip and pin and RFID.
Chip and Pin cards require two types of interaction before the merchant can accept the card as payment. The user must swipe the card and enter a PIN. Thieves typically cannot use the card unless they know the user's PIN.
RFID cards use RFID radio technology to transmit data through the air. Consumers don't have to swipe the card or enter a pin. Unfortunately, this type of credit card is easy for thieves to read with an RFID reader. Users can protect their RFID card and prevent data loss with a protective covering or metal foil.
Shift in Responsibility for Fraudulent Charges
Because many new credit cards are chip-based, credit card companies like VISA and MasterCard want to encourage people to upgrade. Small businesses like yours will be liable for any fraudulent charges if you don't upgrade your credit card processing machine.
Additionally, thieves know that non-chip-based credit cards are easier to steal. If you're one of the last businesses on the block to upgrade, your business faces greater risk of theft.
Upgrade All Your Credit Card Readers
Depending on your business, you may accept payment only at an in-store machine. Your credit card processing company will assist you in selecting a new machine or you can buy the upgraded equipment as you reduce your risk and continue to serve your customers.
If you accept payment via phone or tablet, request a new EMV-capable reader for mobile devices. The new technology protects customer data and decreases your liability.
If you don't accept physical cards, your small business won't have to switch to a chip-reader. However, be prepared for more security threats since it's easier for thieves to steal credit card numbers when they're shared over the phone or on an ecommerce site. Consider boosting your online payment security to protect your customers and your business from threats.
Because chip-based credit cards are the new normal, it's in your best interest to upgrade your credit card payment processing machine today. Learn more about protecting your small business and decreasing your liability when you talk to your insurance agent.