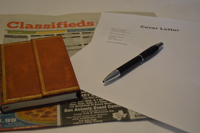 Today's job market is competitive. You can get ahead when you build your professional skills. While you could pay thousands of dollars for classes, consider seven ways you can improve your professional skills for free.
Earn a Diploma or Certificate
A diploma or certificate on the wall proves that you took the time and thought necessary to learn a new skill. With ALISON, you can take classes in sales management, sociology, web development or a variety of other courses. After completing all the modules in the class and scoring a minimum of 80 percent on the course assessments, you'll receive your diploma or certificate.
Access Top College Courses
If you've ever wanted to attend the top colleges in the United States, now's your chance. Coursera gives you free access to numerous classes. The lectures and non-graded materials are available at no cost to you, or you can pay a fee and earn a certificate for the graded work you complete.
Take College Courses
Maybe you want to change careers or brush up on new industry trends. Sign up for one of over 10,000 college classes available at Open Education Database. The math, engineering, health and other in-demand subjects are taught by college professors.
Learn a New Language
English may be spoken across the world, however, you want to stay relevant in today's global economy. Use Duolingo to learn a new language. It's a free app with lessons that include opportunities to listen, speak and translate. They challenge you to learn the language quickly, and you earn rewards every time you provide a correct answer and advance to a different level.
Boost Your Personal Development
Thousands of free classes are available for you to access on Udemys. Learn Adobe Illustrator or advanced writing skills from trained professional instructors as you advance through lessons that use videos and reading material. You can even leave messages for the instructors if you have a question about something you're learning.
Hone Your Soft Skills
Whether you want to improve your Instagram abilities or learn advanced accounting skills, check out Skillshare. It offers 353 free video-heavy classes taught by professionals who are experts in their fields. Your free membership includes access to the classes, mobile app and Skillshare community.
Barter
You may not know programming, social media tricks or time management, but you might have a friend who knows these skills. Agree to trade lessons.  You can learn from your friend as you teach him or her something you know well, and you both benefit.
Improving your professional skills makes you more marketable in your current job and in future positions. Use these seven tips for building your skill set for free.