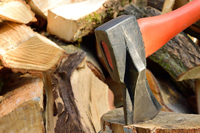 Contests like the Lumberjack Olympics in Hayward, Wisconsin are a great opportunity to show off your team's skills, celebrate the American logging industry, and just have a real good time chopping wood. They're also an insurance buyer's worst nightmare if you don't know what you're doing. Logging contractors liability doesn't cover it. If you're hosting or attending a logging competition, then there will be a whole host of risks that you need to manage which simply won't be addressed by your basic logging insurance policy, such as…
Spectator Liability Insurance
When you're cutting wood to sell to hardware stores and construction crews, you probably don't have much of an audience watching you. When you host a lumberjack competition, you're going to have hundreds of people standing around who don't know the first thing about logging safety. Spectator liability insurance will help to ensure that you're covered should anything happen to somebody who came just to enjoy the show.
If you're hosting, then as long as your athletes sign a waiver of liability, you can hold them responsible for providing their own insurance. Generally this is going to be your best bet if you're allowing all-comers to compete. You don't know the individual level of training and ability and experience for each competitor, so your best bet is to let them provide their own coverage.
If you're attending as a competitor, then you absolutely need to make sure that your health insurance provider knows that you're entering a potentially dangerous competition. Whatever extra costs that may entail, it's going to be cheaper than paying your own hospital bills after taking a fall from a tree.
Your timber logging insurance providers are covering your equipment for use in professional logging. Use a chainsaw to see who can hack a three-foot-thick tree down the quickest and they're probably not going to pay out when the saw breaks down because you didn't pace yourself. The equipment used in logging competitions is usually fairly simple: Chainsaws, axes and basic safety equipment. It's not too pricey to cover your own equipment.
The best way to offset the costs involved with hosting or attending a lumberjack competition, both insuring your ends and providing the best equipment, is to look for sponsorship deals. Companies like Stihl, Remington and Timberland frequently sponsor lumberjack athletes, teams and contests if they feel that it will highlight their brand in a positive way.