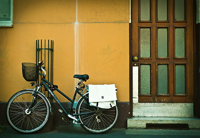 As many as one in five homes are invaded annually in the United States. One tool thieves use is lock bumping. They use a bump or rapping key to unlock pin tumbler locks and gain access to your home. Learn about lock bumping as you take steps to secure your home and peace of mind.
How Lock Bumping Works
Typically, you can only open a door with a key that's specific to that lock. The key's design aligns with the lock, pushes the pins into place above the shear line and unlocks the door.  A bump key is designed to also unlock a door except the thief inserts it into the keyhole and taps the key with a screwdriver or hammer. The bumping pushes the pins in the lock above the shear line and pops the lock.
Thieves can easily learn how to make a bump key thanks to numerous online how-to videos and instructions. With a collection of 10 different bump keys, they can open 90 percent of the doors in the U.S., and the entire process takes a few seconds. Tips That Protect Your Home From Lock Bumping
Protect your home and prevent lock bumping with several steps.
Buy a different pin tumbler lock. Certain locks are harder to bump. When shopping for new locks, look for ones that are:

Made with security pins
Not made from hardened steel
Designed with programmable side bars and not top pins
Equipped with a trap pin
Shallow drilled where one of the interior pins is slightly shallower than the others
Change the spring tension. Stronger top springs in the lock make bumping harder, so ask a locksmith to make at least two of the top springs firmer.
Replace the traditional pin tumbler lock. Instead, invest in a disk tumbler, time, combination, electronic or electromagnetic lock. They don't contain pins and are less vulnerable to bumping.
Reinforce existing locks. If you don't want to replace all the locks in your home, replace the door's metal strike plates. It mounts on the doorjamb and costs about $10.
Lock your door always. Whether you're hanging out at home, working in the yard or garage, going to work or taking an extended vacation, lock your doors. Don't make it easy for a thief to enter your home!
Purchase adequate insurance. Homeowners and renters insurance won't prevent lock bumping, but it can give you peace of mind. With the right insurance, you can replace any of your possessions that are lost, stolen or vandalized.
Your home's security and peace of mind are vital. Understand and prevent lock bumping as you protect your home and family.