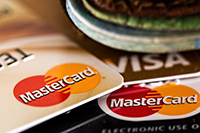 Your small business expenses and personal expenses should stay separate. However, it's easy to spend business funds for personal expenses, which can affect your personal credit. Understand the business credit mistakes that put your personal credit at risk.
Start or Fund Your Business With Personal Credit Cards
To get your business of the ground, you may use your personal credit cards. Whether you charge a few hundred or a few thousand dollars, this financing option could cost you.
Open a business credit card to get your business running. As an alternative, ask for trade credit where your suppliers agree to give you 30 days to pay off the balance of your bill. These steps separate your personal and business finances and can assist you in getting financing in the future with a favorable interest rate and terms.
Use Personal Guarantees
Business financing or credit is usually only available if you give a personal guarantee that you'll repay the money. Those guarantees will show up on your personal credit reports, though, and could affect your credit score and your ability to get credit in the future.
Make an honest effort to never borrow more than you can repay. Don't default on business loans, either. Wise financial management now assists you in obtaining future funding.
Make Late Payments
Sometimes, you can't pay bills until your customers pay, and if they pay late, then you pay late. Other times, you may forget to make a payment. One late payment might not be a big deal, but two can negatively impact your personal credit.
Set aside enough money to pay several months of bills on time. Also, use automatic bill pay when possible and have the payment draft from your business bank account a few days before the due date. Stay current on all payments as you protect your credit.
Max Out Your Business Credit Cards
Certain business credit card providers will report your payment history to consumer credit agencies. Late payments and maxing out your credit card will have a negative effect on your credit score.
Always leave a cushion on your credit cards and resist the temptation to charge your full credit amount. Consider making early payments and paying twice a month as you lower your balance, too. You may also want to use a business credit card that does not report to personal consumer credit agencies.
Your small business can ruin your personal credit. Reduce your risk by separating your accounts. The way you structure your business can protect you, too. Talk to your financial advisor for more information on how to protect your personal credit as you build your small business.