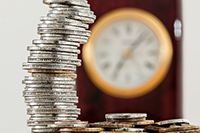 Every industry develops its own terminology and jargon which helps them communicate quickly and easily. Often learning it all is just a matter of putting the time into the experience, but sometimes by learning the more complex terms, you stand a better chance at feeling empowered in an unexpected situation. While set-asides are used for the injured party, it's helpful to be informed of the process as an employer.
A set-aside refers to the amount of money that is put into a fund to help with medical services after a settlement has been reached. The settlement goes to the injured, and it's a way to ensure that they use that money correctly. Medicare will always be the second payer in situations where insurance money runs out after a settlement, and thus created a system to determine how the money should be spent. So if you have an employee who injures themselves on the job and your insurance pays out a certain amount, the set-asides would be the funds that need to be used before Medicare kicks in to cover the rest. The actual amount of these set-asides are decided upon by Medicare after reviewing the documentation available from the claim. The specifics may differ depending on whether or not if you have a no-fault or liability settlement.
Whether or not a Workers Compensation Medicare Set-Aside Allocation is determined by the situation, and an attorney will help counsel the employee through the process. The allocation is an estimate of the total cost of treatment (including prescriptions, surgery, etc.) There will need to be extremely detailed reports for every penny on the part of the injured, and there are certain restrictions on the use of it. Much of the fraud that stems from workers compensation is often seen on the Medicare side, as there are fewer limits than an insurance company.
As you can imagine, this whole issue gets complicated fairly quickly. When an injured worker needs continued care for years after an accident, the question of who pays often becomes a question for the courts. They have to look at the way the injured party were hurt, and determine exactly how much of their injury was on the part of the employee. While you as an employer is neither Medicare nor an insurance carrier, your rates are determined by these types of questions. Therefore it is in your best interest to provide as much safety training, oversight and documentation possible about your involvement with your workers. The more you do this, the less likely it is that you will become caught up in a large settlement that ultimately cripples your business due to rising insurance rates.