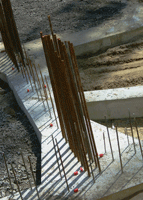 One of the most cost-effective advances in the construction industry has been the use of concrete pumps. Older style bucket operations took significantly longer and frequently affected the quality of the job. Modern concrete pumps allow crews to move massive amounts of concrete while maintaining the quality of the product. The bottom line: Concrete pumps move concrete quickly and efficiently in a wide variety of applications.
Despite the benefits, you'll need to make sure that pump crews take special precautions to make the placement of concrete as safe as possible:
Wear proper personal protective gear, including hardhats, safety glasses, rubber boots, and water-resistant gloves.
Check that safety pins installed between the discharge hose and the boom are positioned properly.
Make certain that no one's working directly under the boom.
Maintain at least a 20-foot clearance between the boom and power lines.
Use a signal person if the pump operator can't see where the concrete is being poured.
Although the pump operator plays an important role in the safety of the operation, job safety is the responsibility of the entire crew. Following basic safety suggestions can make concrete pumps safe to use, as well as cost efficient.