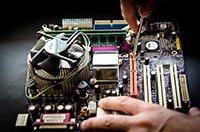 It can be tricky to know what will and what won't void the warranty on your phone, your PC, your tablet or your laptop. You probably have a manual laying around somewhere that can lay this out in more detail, but feel free to rely on this as a quick FAQ on some of the more common questions on what will and won't void a warranty on an electronic device:

DIY Repairs
Some do-it-yourself repairs will void your warranty, some won't. As a general rule, repairing cosmetic damage almost never voids your warranty. If you have to replace the screen on your phone, for instance, then your warranty will remain valid as long as you let them know that you've replaced your own screen. Replacing the entire shell casing, on the other hand, might be a bit of an issue, but luckily, your warranty probably means that you can go have your casing replaced for free.
Rooting Your Phone
If you take a ROOTed phone in for repairs, they're going to tell you to hit the bricks. Here's the good news: you can just unROOT your phone. There's an app called Universal Unroot that can do the job for you quick and easy.
This applies to a lot of mods and hacks for your phone or tablet: they're reversible. You may be able to bring your phone in for repairs by simply restoring it to factory conditions and collecting on your warranty.

Customizing a Desktop or Laptop Computer
Even though they're built as all-in-one units, if you have a Mac, you're probably going to wind up adding more RAM to it. It varies from brand to brand, model to model, but most sellers and manufacturers will honor the warranty even if you've added some bells and whistles to its hardware within certain limitations.
Cosmetic Modding
A general rule of thumb for cosmetic modding of a phone or a PC is: If you need more than a screwdriver to crack the casing open, then you're probably voiding your warranty. They sell stickers and decals specifically for cosmetic modding of your devices, and you can go ahead and put your PC in a custom case, but once you're peeling open the parts that weren't meant to be exposed, you're doing potential damage that will definitely void your warranty.
We've provided some general guidelines here, but some companies are more or less strict than others. When in doubt, shoot them a quick email and see what's covered.