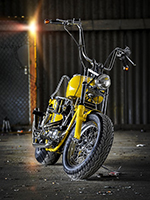 You're one with the road when you ride your motorcycle. However, you need to ensure your ride and your assets are protected if you ever cause or are in an accident. Know the basics of motorcycle insurance as you purchase this valuable protection.
Types of Motorcycles Covered
Standard motorcycles are covered by a motorcycle insurance policy. However, you can also use your policy to insure your specialty bike, including:
Scooter
Moped
Cruiser
Touring and sport-touring bike
Vintage bike
Motocross bike
Street or sports bike
Limited-production and custom bike
Off-road/dual-purpose bike
ATV
Types of Motorcycle Insurance Coverage
Unlike auto insurance, motorcycle insurance is not mandatory in every state. However, replacing your bike or paying for someone's medical expenses after an accident can wipe out your financial assets.
A standard motorcycle insurance policy protects your assets and includes several essential coverage types.
Bodily injury – Pay medical bills for anyone who's injured after an accident you cause.
Property damage liability – Cover expenses caused when your motorcycle crashes into someone's personal property.
Uninsured/underinsured motorist – Pay for property damages, injury bills, lost wages and other expenses after a collision with a driver who does not have insurance or adequate insurance coverage.
Additionally, you may purchase several optional coverages, such as:
Personal Injury Protection (PIP) – This no-fault insurance covers the medical expenses of your passenger or pedestrians after an at-fault accident.
Medical payments – Pay for your medical treatment after an at-fault or no-fault accident.
Comprehensive – Replace your lost or stolen motorcycle or repair a damaged bike after vandalism, a natural disaster or other non-accidental incident.
Collision – Repair your damaged bike and replace damaged riding apparel and helmets after a collision.
Optional equipment – Replace customizations you make to your bike.
Accessory – Receive up to $30,000 based on the actual cash value (original value minus depreciation) of your bike's customized parts and equipment.
Towing and labor – Receive a payout if you're stranded, need a tow or break down. It also covers labor costs associated with a flat tire, dead battery, low fuel or fluids or lost key.
Trip interruption – Cover mechanical breakdowns and receive cash for lodging, food and transportation if you file a claim while you're on a long distance ride.
Motorcycle Insurance Costs
Your motorcycle insurance policy cost depends on your policy's deductible and the type and amount of coverage you purchase. Factor in your riding habits and personal preferences, too. You may want increased coverage if your bike is expensive, you ride highly-populated areas or you're an inexperienced motorcyclist.
Motorcycle insurance gives you peace of mind and protects your asset