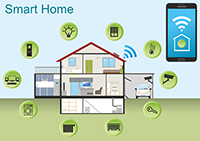 If you want to insure a mansion or a priceless art collection, don't be surprised if a certified thermographer shows up at your door, infrared camera in hand.
Thermal imaging cameras are among the latest high-tech tools Homeowners insurers are using to help stem losses before they become catastrophes, saving policyholders from heartbreak and companies millions in damage claims.
One major insurance company is using thermal imaging cameras for its high-value homes, letting inspectors "see" hidden hot or cool spots. A hot reading might indicate a fire hazard from an electrical malfunction, while a cool reading could come from a leak. In one case, the camera detected a cool spot in a ceiling due to a leak caused by a faulty 37-cent clip in an upstairs ice maker. If the ceiling had collapsed, it would have caused $125,000 in damage.
High-tech devices aren't limited to the high-end market. One insurer offers an online risk-assessment tool that its Homeowners clients can use to find the risks for flooding, wildfire and storm surge, based on their address. This company also provides its clients inexpensive alarms that can detect potential water leaks before they can cause extensive, and expensive, damage.
Insurance companies are exploring new technologies. One insurer has patented a data recorder that can be installed in building to analyze potential causes of damage or destruction. Another company has filed a patent for a system that would use spectroscopy to identify chemical changes caused by wildfires and other natural disasters. If such a change were detected and confirmed, the company could speed up the claims process.