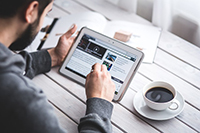 The self-employed tackle challenges that those employed by others rarely face: doing budgets, growing their business – and, of course, Health insurance.
The cost of individual Health coverage has skyrocketed during the past decade, with average monthly premiums growing more than 500%. What's more, co-pays and deductibles keep going up, while covered services are shrinking.
However, there are options that can help the self-employed enjoy significant savings on Health insurance:
The Consolidated Omnibus Budget Reconciliation Act (COBRA)
COBRA is a federal law that guarantees workers who lose their jobs – and thus the Group Health benefits provided by their employers,- he opportunity to retain coverage on themselves and their families for up to 18 months, as long as they pay the policy premium (plus a surcharge of up to 2%). COBRA gives the self-employed a short-term 'time cushion" during which they can make other health care choices.
Online Providers
The Internet has given rise to a number of smaller, increasingly flexible, more price-conscious, and highly competitive companies that offer the self-employed a variety of options for affordable Health insurance.
The Affordable Care Act (ACA)
Everything that we know about Health insurance for the self-employed (as well as employees in small and medium -sized businesses) is in a state of flux as more provisions of the ACA take effect over the next few months. The government, in partnership with Health insurance providers, will offer a variety of options – and require every adult to carry some type of coverage, or face a tax penalty.
For more information on how to get the best value on your Health insurance, at an affordable price, feel free to get in touch with our agency at any time.