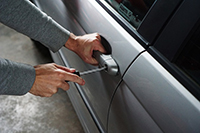 The National Insurance Crime Bureau (NICB) released its list of U.S. metropolitan areas plagued with the highest stolen-vehicle rates in 2015. California cities took eight of the top ten spots, with New Mexico and Colorado filling out the list.
What does this mean for you, the business owner?

It reinforces the threat of vehicle theft. If your company vehicle is stolen, it could take some time to replace that vehicle, which could impact your business. Although it seems that those in sunny California get the short end of the stick, the bottom line is that thieves wreak havoc on business parking lots and jobsites nationwide.
The NICB recommends three levels of security:
Warning devices, such as alarms.
Immobilizing devices, such as a smart key or kill switch.
Tracking devices that help police locate the vehicle.
The NICB also advises owners and users of vehicles to exercise such common sense precautions such as not leaving the car unlocked.
Although NICB's recommendations provide viable risk-management techniques, a commercial auto policy that includes theft coverage will also help.
If we haven't discussed your coverage in a while, now's the time. Please give us call us today