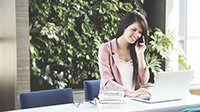 Attracting top leadership talent for your company is essential since good leaders grow businesses, increase productivity and motivate employees. However, many companies cannot afford to offer competitive benefits plans to the leaders who can guide their organization to success. Executive benefits plans provide a solution. If your company needs strong leadership, consider offering an executive benefits plan.
What is an Executive Benefits Plan
Attract, reward and retain leaders and key employees in your business with an executive benefits plan. It's a contractual agreement between the employer and key employees. It offers retirement benefits that supplement your company's existing benefits package.
The plan gives your company flexibility when offering compensation to executives and key employees, and it can:
Replace income at retirement
Replace benefits lost because of IRS limits on qualified plans
Defer compensation
Enhance benefits during an acquisition or other change of control
Add additional benefits to qualified employee benefit plans
There are no coverage, eligibility or participation requirements for an executive benefits plan, making it ideal for companies of all sizes.
Executive Benefits Plan Eligibility
Almost any employee is eligible for qualified employee benefits packages. Only select employees are eligible for executive benefits plans, however. According to the Department of Labor, these plans may only cover select management personnel with specific job titles.
President
Chief executive officer
Chief financial officer
Senior or executive vice president
General counsel
Treasurer
Additionally, highly compensated employees or those with key responsibilities may be eligible for executive benefits plans.
Products Available in an Executive Benefits Plan
Consider all the available products when you assemble an executive benefits plan. In general, you may choose from several product options, including:  
Executive Health Plans
Elective Deferred Compensation Plan (EDC)
Benefit Equalization Plans (BEPS)
Supplemental Executive Retirement Plan (SERP)
Medical Reimbursement Plans
Section 162 Bonus Plans
Split-Dollar Plans
457(b) Plans
457(f) Plans
Key Person Disability Coverage
Key Person Life Insurance
Funding Considerations
When funding an executive benefits plan, you can choose between two options.
Funded plans offer security since contributions are deposited into an independent trust which then pays the benefits.
Unfunded plans are deducted from the company's general assets.
Talk to your benefits plan administrator or insurance agent for more details on funded and unfunded plans. Then choose the type that meets your needs.
Leaders can make or break a business. Offer an executive benefits plan to develop a strong leadership team. When choosing an executive benefits plan, look for one that's managed by a reputable company. It should be effective and cost-efficient too as you retain leaders who help your company prosper.