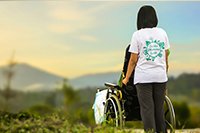 Medical advances keep us healthier. However, debilitating illnesses still affect thousands of people, and the costs of treating those illnesses cause many medical bankruptcies. With critical illness insurance, you may get the treatment you need, keep your home and other assets, and spend time with your family.
Critical Illness Insurance Coverage
Dozens of medical conditions, including injuries, disease and surgeries, are covered under critical illness insurance. Several examples include:
Alzheimer's disease
Cancers
Coma
Heart attack
Heart valve surgery
Kidney failure
Loss of sight/speech/hearing
Multiple sclerosis
Organ transplant
Paraplegia
Severe burns
Stroke
Many critical illness insurance companies offer critical illness categories such as cancer and related conditions, organ transplants and heart-related conditions. You may purchase coverage for one category or may more to purchase a policy that covers all the categories.
Policies usually range from $10,000 to $1 million. When you do file a claim, the insurance company will pay it in a lump sum. You may then use the money for any expense you wish, including:
Medical bills, deductibles, co-payments or diagnostic testing
Experimental treatment
Out-of-network doctors and hospitals
Transportation to treatment
Wheelchair or other medical equipment and supplies
Home health care
Home improvements or retrofitting
Household living expenses
Income replacement
Family vacation
Childcare
Keep in mind that critical illness insurance typically provides coverage for two to 25 years. While the insurance remains in effect as long as you pay the premiums, critical illness insurance policies include a waiting period, also known as an elimination period, during which you cannot receive benefits.
Critical Illness Insurance Costs
Your age, height, weight, family health history, nicotine use and current medical conditions affect the cost of your critical illness insurance policy. Premiums may increase when these factors change.
Also, your costs depend on the amount of coverage you buy. Choose the right amount of coverage for you when you add two years worth of mortgage or rent payments and the amount of your outstanding credit card debt.
How to Purchase Critical Illness Insurance
When you decide critical illness insurance is right for you, purchase it in several ways.
Purchase an individual policy, which includes a medical exam.
Add the benefit through your employee benefits package and pay the premiums through payroll deduction. You'll either receive a certificate under your employer's group plan or an individual workplace policy.
Add as a supplement to your major medical health insurance policy.
Purchase as a supplement to your life insurance policy.
With critical illness insurance, you can afford medical treatment and provide for your family. It gives you peace of mind and may be a wise investment.