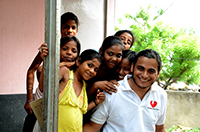 The challenge in running a non-profit is that it still takes money and resources. Just because you're not interested in getting rich off of this idea doesn't mean that money is not an issue. If a worker suffers an injury on the job, their compensation has to come from somewhere.
Something that may come as a surprise to many: Volunteers are not typically covered by worker's compensation policies. In more states than not, worker's compensation only covers, well, workers. If you are paying actual employees at food banks workers' compensation insurance will cover their injuries. Likewise Meals on Wheels insurance policy will cover the organization's workers. If you're working with unpaid volunteers this is not the case.
Your volunteers may wind up covered by a general liability claim, but this is not always the case. If you want to make sure that your people are covered no matter what, then you're probably going to have to bring them in as paid employees, or at the very least, under an internship program that includes medical and worker's compensation benefits and so on.
A problem with relying exclusively on volunteers for your workforce is that you don't really get to pick your staff from the best and brightest. Many who volunteer will bring their A-game, they will take the task just as seriously as they would take their dayjob. This isn't always the case, unfortunately, and without any payment or compensation or even the safety net of worker's compensation to draw talent, you wind up taking what you can get.
Non-profit doesn't mean nobody gets paid. Non-profits are usually devoted to a humanitarian cause and their primary concern is not making anybody rich, but making a difference, but that doesn't mean that everyone involved is simply donating time and resources without compensation. Typically you're going to have benefactors and other income streams that will allow you to hire qualified people for your food bank, and provide them with the appropriate coverage they need in order to provide them, and you, with peace of mind.
To put it bluntly: a volunteer force is a great idea in concept. In reality, you're asking some of the kindest, most generous people in the world to foot the bill themselves if they get hurt on the job. That's a recipe for, if not a lawsuit, at least a guilty conscience. The most effective way to make a difference in the long term is to get some money behind your cause and treat your workers like you would paid employees at any other business.