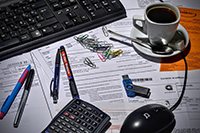 Under the Affordable Care Act, almost all Americans must buy health insurance, and many choose to participate in employer-sponsored coverage. Self-insured group health insurance is one option some companies choose.
What is Self-Insured Group Health Insurance?
With self-insured group health insurance, a company takes on the financial responsibility and risk of providing its employees with health insurance benefits. The company collects premiums from employees and their dependents. The company then pays medical claims directly instead of paying an insurance carrier.
The company may contract with a third party administrator (TPA) to perform certain insurance services such as setting up the plan, reviewing services and arranging network contracts.
Self-insured group health insurance is more common in larger companies than in smaller companies because of the financial risk. However, companies with as few as 25 people do choose this type of health insurance.
Which Laws Apply to Self-Insured Group Health Plans?
Self-insured group health plans must comply with a variety of federal laws. They include:
Age Discrimination in Employment Act
Americans with Disabilities Act (ADA)
Civil Rights Act
Consolidated Omnibus Budget Reconciliation Act (COBRA)
Employee Retirement Income Security Act (ERISA)
Health Insurance Portability and Accountability Act (HIPAA)
Pregnancy Discrimination Act
Various budget reconciliation acts
What are the Advantages of Self-Insured Group Health Insurance?
Companies choose self-insured options for several reasons, including these.
Easy to customize.Rather than purchase a pre-packaged insurance plan, a company may customize its plan based on the needs of covered employees.
Choose providers.Because a company decides to be self-insured, it may also choose its providers and provider network that suits its employees' needs.
Maintain financial control of plan reserves.A typical self-insured group health insurance plan requires a company to earmark premiums for future claims. The employer may invest those premiums to maximize the interest earned.
Improve cash flow.With a self-insured group health insurance plan, the company is relieved from pre-paying for coverage. This perk improves cash flow instead of tying up funds.
Reduce conflict and confusion caused by state health regulations.Federal laws regulate self-insured group health insurance plans. That means the company is free from conflicting and confusing state regulations and benefit mandates.
Relieve tax burden.Some states charge a tax on health insurance premiums. A self-insured company does not pay these taxes.
A self-insured group health insurance plan may be a smart decision for a company. Understand its risks and benefits as you ensure you comply with the Affordable Care Act and obtain valuable health insurance.