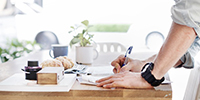 As of January 2016, more than 20 million people were covered by health savings accounts (HSAs), according to a survey conducted by America's Health Insurance Plans (AHIP), a national association representing companies that offer health insurance (and other types of) coverage to individuals, employers, and public purchasers. This represents a 3.4% increase in HSA enrollment since last year.
HSAs, which were created in late 2003 by the Medicare Prescription Drug and Modernization Act, offer individuals who are covered by a qualified high-deductible health plan (HDHP) a tax-favored way to save for and pay for medical expenses.
Of the total HSA enrollment, about 10% were in the individual market; 10% were in the small group market (defined as businesses with 50 or fewer employees); and the remaining 80% were in the large group market (businesses with more than 50 employees).
Though HSAs sometimes are criticized as being appropriate only for young, healthy individuals, 55% of the people covered by HSA-eligible insurance in the AHIP census were over age 40.
The states with the largest HSA/HDHP enrollments were: California, Texas, Colorado, Minnesota, Washington, Illinois,
The AHIP census was conducted by the organization's Center for Policy and Research. More information on the census can be found through AHIP's Web site, http://www.ahip.org