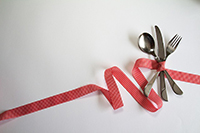 When you sit down to dinner, your eating utensils probably include a fork, spoon and knife. The fork is only a few centuries old, but knives were used by Stone Age diners, and the first man-made spoons were fashioned from horns, bones and wood. Today's silverware has come a long way from its early predecessors, and it's a popular wedding gifts. Protect your priceless silverware with an insurance policy.
Why Purchase Silverware Insurance?
Your homeowners insurance policy covers most of your possessions. However, it may not cover silverware, including the pieces passed down from generation to generation. If your policy does cover silverware, it may limit the amount of money it pays for valuables and antiques, limit coverage to $500 or less or not cover your silverware if carry it out of your home and with you on vacation, to an appraisal or to a family gathering.
Purchase silverware insurance to protect your collection and give you peace of mind. The coverage is typically an endorsement or rider on your homeowners insurance policy and can cover your entire collection or your most valuable pieces.
What Does Silverware Insurance Cover?
Insurance cannot prevent theft, loss, fire, or weather or other physical damage, but it can give you peace of mind. Your insurance company may reimburse your for the value of your insured silverware, whether it's new or antique.
How to Determine the Value of Your Silverware
You can easily determine the value of household items like furniture and electronics. Silverware can be trickier to valuate, though, especially if you're not sure of its age, value or authenticity.
Contact an antique or silver dealer for an accurate appraisal of your collection. You may try to find the value online, but you'll need a written appraisal for insurance purposes.
Once you have that appraisal, take pictures of your collection. Include the appraisal and pictures with your policy in a fireproof safe or lock box.
How to Purchase Silverware Insurance
While you may be lucky enough to own an entire collection of rare silverware, you can also insure a single item such as a valuable piece you purchased at an estate sale or a special spoon your grandmother owned. Many insurance companies suggest you insure each piece individually. That way, each piece is appraised and listed on your policy, allowing you to receive the item's full value if you must file a claim.
Your insurance agent will assist you in understanding the coverage options and in finding the best coverage for your needs.
Silverware insurance is valuable coverage for your precious flatware. Purchase a policy today to give yourself peace of mind and protect your valuable silverware collection.