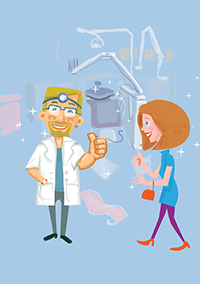 The voluntary benefits market is growing, and with good reason. Voluntary benefits-offered through the workplace but paid for fully by employees-enable an employer to make a wide array of supplemental benefits available to employees, at little or no cost to the company. Voluntary benefits products are so attractive that, according to one study, more than six in ten employers now offer at least one type of voluntary benefit.
The advantages of voluntary benefits are well known. Because a voluntary benefit product is marketed and sold in a group setting, employees can purchase the benefits at a group rate, pay for them through payroll deduction, and save the time of shopping for them on their own.
For eight consecutive years, Metlife has conducted research on employees and employers regarding the U.S. benefits industry, and compiled the results in its annual Study of Employee Benefits Trends. The 2010 study reveals the apparent resilience of workplace benefits even during a tough economy.
It also shows that although employers and employees continue to deal with the effects of the economic downturn, they are focused on the long term, and value voluntary benefits. However, there is a slight disconnect on how much worth employers/employees place on voluntary benefits.
According to the 2010 study, 57% of employees agree that voluntary benefits provide access to options that better fit their needs. Furthermore, 60% of employees surveyed believe that voluntary benefits are valuable to provide them with extra coverage that supplements employer-sponsored benefits.
From the employer's perspective, the study found that many employers underestimate the value employees place on voluntary benefits. Just as employees expressed greater interest in voluntary benefits, the importance of these benefits has declined among employers. As a result, there may be a missed opportunity for employers to improve satisfaction with benefits program.
The most in-demand voluntary benefits continue to be those that supplement core medical, life, or disability coverages. These include dental, critical illness, specific illness, hospital supplemental, medical supplemental, disability buy-up, and supplemental life coverages.
However, demographic trends are contributing to growing interest in long-term care and financial planning products. As more people become faced with their parents' eldercare needs, they begin to appreciate the cost of extended care and anticipate what their own needs may be in a few short years. And, many workers, beginning in mid-career, face the double crunch of saving for retirement at the same time they are attempting to finance their children's college education.
Other products in the voluntary benefits market include vision insurance, legal services plans, auto/homeowners'/renters' insurance, and pet care insurance.
In deciding on a particular voluntary benefit product or vendor, an employer should keep several things in mind:
Is the type of product one for which employees have expressed an interest (as demonstrated by requests made or surveys done of the workforce) or one that you are comfortably sure employees will want?
If administrative processes by the company's human resources/benefits staff will be required, are they easy to understand and economical in terms of the amount of time they will require?
After examining detailed information on the product, does it seem to provide what its name implies?
Is the carrier/vendor financially stable and reputable?
If chosen properly, voluntary benefits can be a welcome, win-win supplement to an employer's benefits package.