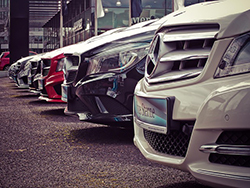 As a motor trader, you buy and sell automobiles and possibly recreational vehicles, all terrain vehicles and other motorized vehicles. Your job involves more than selling cars, though. You may also test drive automobiles, transport vehicles to different locations, talk to customers throughout the community and maybe even perform light mechanics. Make sure you have motor traders Workers' Compensation through your employer as you protect yourself.
What is Motor Trades Workers' Compensation?
The federal government mandates that every business must carry Workers' Compensation for its employees. This valuable coverage ensures you receive the professional and adequate medical treatment you deserve if you are injured on the job or suffer from a work-related illness. It minimizes time off work and the financial burden injuries and illnesses may bring.
Your Workers' Compensation insurance policy provides several important financial resources, including all the required medical treatment associated with treating your workplace injury or illness such as doctor visits, physical therapy, lab testing or other procedures. It can also replace a portion of the wages you lose when you're off work recuperating.
Your Workers' Compensation coverage may also provide benefits like:
Safety training that helps you identify hazards and adopt safe practices
Medical treatment plan review
Billing review to ensure accuracy
Vocational assistance that helps you return to work as soon as you're medically approved
Where to Buy Motor Traders Workers' Compensation
Your employer will purchase Workers' Compensation insurance for you. Talk to your Human Resources manager to ensure you have adequate motor traders Workers' Compensation benefits.
How to File a Motor Traders Workers' Compensation Claim
Maybe you slip on wet stairs and sprain your ankle or get sick from breathing fumes during an office renovation. File a Workers' Compensation claim as soon as possible after the incident.
Your supervisor or HR manager will provide the official Workers' Compensation form you must complete. It will include details of the injury or illness such as how, when and where it occurred. You may also provide the names of any witnesses to your accident.
How to Claim Workers' Compensation Benefits
After your Workers' Compensation claim is approved, you may seek appropriate medical treatment from a provider in your Workers' Compensation policy network. If you choose to see a medical professional who's not on the approved network list, you will pay out-of-pocket for any associated expenses.
Additionally, complete any prescribed treatment or you may forfeit your benefits. Your doctor or therapist will let you know when you can return to work.
Motor traders Workers' Compensation provides financial resources if you are injured or suffer an illness at work. Discuss the details of your coverage with your HR manager as you stay safe on the job.