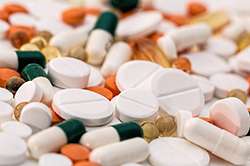 Prescription drug coverage is a benefit many employers offer. You can use it to pay for your medications and improve or maintain your health.
What is Prescription Drug Coverage?
Most employers offer prescription drug coverage as part of your healthcare benefits package. With this coverage, your insurance pays for the medications your doctor prescribes after you pay your deductible any co-pays.
How to Choose Medications
Your coverage's formulary list can help you and your doctor choose medication. All the medicines on this list are reviewed by healthcare professionals and are safe and effective. However, they are divided into tiers that determine their price.
Tier 1 – Primarily generic, tier 1 drugs provide the same medical benefits as brand-name drugs at a lower cost.
Tier 2 – Find many effective and affordable brand name and some generic drugs in tier 2.
Tier 3 – Non-preferred brand name drugs will cost more than equivalent generic or preferred medicines.
Tier 4 – Drugs in this tier are usually self-administered injectables or specialty drugs that treat chronic or serious conditions and require special handling, monitoring or administration. They are the highest priced drugs available.
Consult the formulary list as you decide which medications you can afford.
How to Fill Prescriptions
Many prescription drug coverage plans make filling prescriptions easy. You can visit a participating retail pharmacy in person with your prescription and member ID card or request medication through a mail order pharmacy. Both of these options include access to pharmacists who can answer any questions or concerns you may have.
You may also visit a non-participating pharmacy. However, you'll be responsible to pay the full cost of the medicine when you pick it up. You may then submit a claim form to your prescription drug plan administrator before you receive reimbursement.
Maximize Your Prescription Drug Coverage
Several tips help you maximize your prescription drug coverage and save money while staying healthy.
Print your prescription plan's formulary list and ask your doctor to prescribe a tier 1 or tier 2 drug if possible.
Ask your doctor about step therapy where you try a less costly medication before a more expensive alternative.
Obtain prior authorization for prescriptions from your insurance plan.
Choose an in-network pharmacy.
Select mail order delivery.
Buy 90-day supplies of maintenance medicines used to treat asthma, high cholesterol, high blood pressure or other conditions.
Choose a plan that includes most of your medications in tier 1 or 2.
Shop around during your company's open enrollment for the most affordable prescription drug coverage plan.
Your prescription drug coverage is an important feature of your employee benefits plan. Get more details from your HR manager as you protect your health.