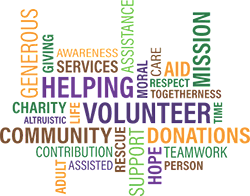 Your nonprofit organization specializes in serving and helping others. A lawsuit or other liability could inhibit your organization's ability to continue operations, though. You need a nonprofit commercial package with invaluable protection that meets your needs as you help others.
What a Nonprofit Commercial Package Includes
The right insurance provides invaluable protection for your organization. Look for several types of coverage when shopping for a nonprofit commercial package.
General Liability Insurance

When visitors or clients are injured from a fall, slip or accident on your property, your organization is liable for medical payments and other damages. General liability insurance offers classic slip-and-fall coverage for any unfortunate accidents.
Property Insurance

Natural disasters, fires, vandalism and other risks can happen at any time. Property insurance pays for necessary repairs and minimizes operation disruptions to the property your organization owns or rents. This insurance can cover:

Computers and accessories
Equipment and machinery
Fixtures, including carpeting and lighting
Inventory and supplies
Office furniture
Auto Insurance

Any time your staff or volunteers drive a company or personal vehicle for organization activities, your nonprofit is liable for accidents or damages. Purchase adequate auto insurance that includes liability and any coverage your state requires, such as personal injury protection or uninsured/underinsured motorist coverage.
Product Liability Insurance

Your nonprofit may sell products to raise funds for your cause. Examples include items your clients create or baked goods. Property liability insurance protects your organization financially if someone suffers an injury or other damages because of a product you sell.
Directors and Officers InsuranceNonprofit organizations rely on the leadership expertise of directors and officers. These men and women could be sued for fraud, financial mismanagement or other things, though. Directors and Officers insurance covers defense and damage costs.
Professional Liability Insurance

When someone files a discrimination, mismanagement or sexual harassment lawsuit against your organization, the nonprofit is liable for related costs and damages. Professional liability insurance, also known as errors and omissions or malpractice insurance, is similar to Directors and Officers insurance but covers your entire organization, including staff and volunteers.
In addition to these six coverage options, your nonprofit commercial package may include:
Abuse Liability
Cyber Liability
Loss of Business Income
Misconduct
Negligence
Special Event Insurance
Umbrella Coverage
Volunteer Medical Expense Coverage
Workers' Compensation
Your organization needs customized insurance that meets your needs, fits your budget and protects your assets. Contact your insurance agent today for a customized quote and more information on the Nonprofit Commercial Package that's right for you. It provides invaluable protection that allows you to address risks while continuing to serve others.