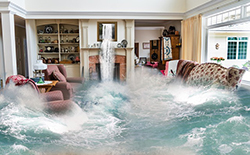 Don't wait until the weather forecast calls for prolonged heavy rains before buying flood insurance. While this practical insurance can be purchased anytime, the policy does not take effect for 30 days. As the most common natural disaster in the country, flooding ruins millions of dollars of homes and property every year. Even so, flooding is not commonly covered in your typical homeowner's insurance policy, making it necessary to purchase additional coverage for this costly, devastating disaster.
If you are in a high-risk flood zone, a federally regulated lender will require a would-be borrower to buy flood insurance in order to qualify for a mortgage loan. To satisfy the lender, flood insurance must be purchased in an amount that sufficiently covers the loan.
A homeowner should also buy flood insurance if he or she resides in a flood plain with no failsafe controls, such as a dam. Flood policies even pay off if the President does not declare the area a federal disaster area, which can prove to be invaluable. Because the nation's Chief Executive Officer rarely issues such a declaration, protecting yourself is extremely important. Besides, you have to repay the federal aid you receive for home repairs related to a natural disaster so providing your own protection is the only way to ensure financial recovery suffered from flooding.
Not all homes qualify for flood coverage. For instance, flood insurance for beachfront or ocean-side property may not be available for the obvious reasons.
The Federal Emergency Management Association (FEMA) reports that more than 20,000 communities have agreed to tighter zoning and building measures to control floods. Residents of these communities can buy flood coverage from the National Flood Insurance Program (NFIP), which FEMA oversees. As of 2009, NFIP had 5.7 million flood policies inforce nationwide.
Premiums for flood insurance vary widely, depending primarily on individual risk. In determining price, flood insurance underwriters consider several factors including the property's elevation, proximity to bodies of water, and whether the dwelling has a basement. Flood insurance is available to homeowners, renters, condo owners/renters, and commercial owners/renters.
Call out office today! We'd be happy to assist you through the murky waters.