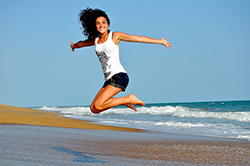 Insurance is one of the most important benefits in an employee benefits package. As you look for your next job, consider the healthcare insurance options your potential employer could offer.
Medical
The types of medical coverage offered in an employee benefits package depends on the number of employees, the company's budget, available plans and legal requirements. In general, medical insurance options include:
Deductibles
Copayments
Out-of-pocket maximums
Network of doctors and hospitals
Primary care
Preventative screenings
X-rays, blood work and other testing
Physical and occupational therapy
Behavioral health care
Maternity care
Wellness programs
Option to add family members for an additional cost
Check your insurance package for details on the coverage. Make sure the medical treatment you want and need is included, and determine how much of the premium you'll have to pay. Depending on the coverage, you may have to pay more to see medical personal that are not part of the approved network.
Dental
Oral health affects your body's overall health. Healthy teeth give you confidence, too, so take advantage of dental insurance.
Your coverage may include:
Regular cleanings and oral exams
X-rays, cleanings and fillings
Discounts for orthodontic services
Oral surgery
Vision
When your eyes are healthy, you can focus on your work and are less likely to develop headaches and other health conditions caused by eye strain. A vision plan can include an annual eye exam to evaluate eye health and the need for corrective lenses. Your vision insurance may also cover eyeglasses, contact lenses and safety glasses.

Prescription Drugs
Prescription medication can correct a variety of illnesses and chronic conditions.
Most prescription drug plans categorize medicine in tiers with tier 1 being the most affordable and tier 4 being the most expensive. Your plan will outline which medicine falls into which tier.
Tier 1 is primarily generic brands
Tier 2 is preferred brand name and some generic brands
Tier 3 is non-preferred brand name drugs
Tier 4 is usually self-administered or specialty drugs for chronic or serious conditions
Depending on the type of coverage you have, you can fill prescriptions at a local pharmacy or order online.
HSA/HRA/FSA
Employers and employees with certain types of medical insurance can open a Health Savings Account (HSA), a Health Reimbursement Account (HRA) or Flexible Spending Account (FSA). Those funds pay qualified medical expenses like deductibles, copayments, prescriptions, testing and therapy.
These and other healthcare insurance options like wellness programs, hearing coverage and disability could be part of your employee benefits package. Evaluate your needs then consider the insurance benefits package employers offer as you choose your next job.