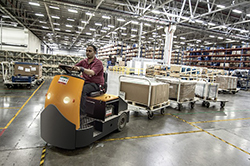 Almost any job can be risky, but some jobs are more dangerous than others.  Occupational Hazard Insurance offers invaluable coverage for anyone who works in a dangerous job. Learn more about Occupational Hazard Insurance, especially if you work in a dangerous occupation.
What is Occupational Hazard Insurance?
Your risk of injury or death increases when you work in a dangerous job. Occupational Hazard Insurance provides financial resources to you or your loved ones if you suffer an injury or die while performing your job. It's protective coverage that gives you peace of mind.
Who is Eligible for Occupational Hazard Insurance?
Employees who work in dangerous occupations are eligible for Occupational Hazard Insurance. However, each insurance carrier has different eligibility requirements.
Typically, you must be between 18 and 70 years of age to qualify for the coverage. Additionally, you may be required to undergo occupational training. Other special requirements can include licensing or a specific business model. For example, truck drivers must have a valid license and be self-employed or work as independent contractors to obtain this insurance.
How Much Occupational Hazard Insurance do you Need?
Every state implements different regulations for Occupational Hazard Insurance. Check your state's requirements to ensure you purchase enough coverage.
You'll also want to purchase enough coverage for your needs. Be sure your policy covers your regular bills or is enough to give your survivors adequate financial resources to meet their needs and maintain financial security.
What are the Benefits of Occupational Hazard Insurance?
Most Occupational Hazard Insurance coverage includes several benefits. Check your policy for details. In general, a policy will cover:
Accident-related medical and dental expenses
Accidental death or dismemberment
Temporary or permanent disability
Reduction in disability income
Severe burn benefit
Paralysis
Survivors benefits
How Much Does Occupational Hazard Insurance Cost?
Expect to pay more for an Occupational Hazard Insurance policy since you are working in a dangerous job and the insurance company takes a big risk in insuring you. Additionally, other factors affect your premium. They include your:
Age
Industry
Safety history
Amount of coverage
Type of coverage
Your insurance carrier may also consider other factors when determining the cost of your premium. Discuss the details with your agent.
You may also wish to shop around. Compare policies and costs as you find the right Occupational Hazard Insurance for your budget and needs.
Occupational Hazard Insurance gives you financial resources if you're injured or die on the job. It's valuable coverage, so discern your needs and options before you work another day.