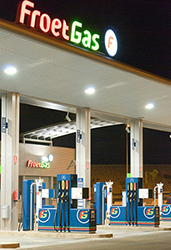 Convenience stores, including those that offer gas, food, car washes, vehicle repairs and truck stop facilities, often enjoy a steady stream of traffic. As a convenience store owner, you do face multiple risks and hazards, however. Protect your business with convenience store insurance. It covers several key elements.
General Liability
With general liability insurance, you receive broad coverage that insures you against a variety of risks and hazards. It also grows with your business as you add new inventory, products or stores.
Purchase general liability insurance and receive coverage for:
Premises Liability – If a customer is injured on your property or their property is damaged while on your premises, you are liable for the medical payments or repairs. Liability coverage pays for these expenses.
Products Liability – There's always a risk that one of your suppliers, manufacturers or distributers could provide you with a product that causes harm to your customers. Use your products liability insurance to pay medical costs, legal defense, settlements and related costs.
Completed Operations – When an employee makes a mistake activating a cellphone, issuing a money order or performing another service, the customer could sue your business. Completed operations insurance pays these claims.
Business Owners Policy
Also known as BOP, a business owners policy protects your physical and intangible business assets. It includes general liability and other protections based on your needs. Several options under a BOP policy include:
Buildings and Contents
Business Income and Extra Expense
Electronic Data
Employee Dishonesty Coverage
Newly Acquired or Constructed Buildings
Workers' Compensation
Workers' Compensation is normally required by law. When an employee is injured or becomes ill because of the job, this coverage pays for related expenses.
Business Auto

You or your employees may drive a vehicle for business purposes. Your business auto insurance will cover any liability if you cause an accident or property damage. It can also pay for any goods that were lost or damaged, vehicle repairs, injury expenses or medical bills.
Commercial Umbrella
Even if you purchase all the insurance options available, you may still need additional protection. A commercial umbrella policy extends your coverage limits and protects your business and assets.
Consider Additional Coverage Options
In addition to these five insurance categories, you can purchase insurance for:
ATM Machines
Canopies
Car Wash Building and Equipment
Flood Insurance
Garage Keepers Liability
Liquor Liability
Pollution Coverage for underground storage tanks
Pumps
Theft and Crime
Utility Time Element Coverage
Windstorm Coverage
Convenience store insurance is important. Discuss your needs and options with your insurance agent as you protect your business.