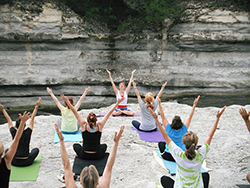 Your job as a fitness instructor is to help other people get and stay healthy. Unfortunately, accidents and injuries can happen during individual or group trainings or classes. Fitness instructor insurance protects you if you are sued by a student for injuries or damages.
Who is Eligible for Fitness Instructor Insurance?
Fitness instructors over the age of 18 are eligible for fitness instructor insurance. Depending on your policy, you can work in these fields:
Acrobatics
Aerobics
Cardio kickboxing
Children's fitness classes and programs
Dance
Exercise
Fitness boot camps
Personal trainer
Pilates
Spinning
Strength
Tai Chi
Tumbling
Yoga
Zumba
What is Covered in a Fitness Instructor Insurance Policy?

Your fitness instructor insurance policy will cover several conditions.
General Liability – pays for bodily injuries and property damage caused by your fitness instructor activities
Professional Liability – covers wrongful acts, including breaches of duty, neglect, omissions, errors and misleading statements
Damage to Premises – pays for repairs if you or a student damages the building you rent for fitness activities
Sexual Abuse Liability – covers expenses related to charges of sexual abuse
Legal Liability – pays for expenses related to legal fees when a class participant sues you
You may also be able to purchase coverage for:
Personal or Advertising Injury
Medical Expenses
Defense Cost Reimbursement
Products Liability
Why do you Need Fitness Instructor Insurance?
Whether you teach fitness classes in your home, school, gym or training facility, you are responsible for your students. If they're injured while training with you, they could sue you. You'll be liable for the resulting medical payments, legal fees or other damages.
Fitness instructor insurance can cover your liability and pay any expenses that are your responsibility. It gives you peace of mind and protects your business and assets.
You also may need this policy to teach in certain settings, and clients may choose you over a competitor because you have insurance. With a fitness instructor insurance policy, you could potentially expand your business.
How to Purchase Fitness Instructor Insurance
Talk to your insurance agent today about fitness instructor insurance. Your policy can be customized based on the types of classes and style of exercise you teach, how often you teach and where you teach. Share details about your work with your insurance agent to ensure you purchase adequate insurance for your needs. Remember to update your agent, too, if your business services, location or focus changes.
Fitness instructor insurance protects you as you help others achieve their health goals. Purchase a policy before your next class to ensure you have this important coverage and protection.