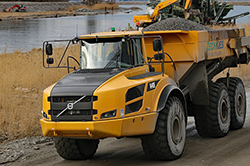 Rock haulers carry loads of rocks between locations. They may haul rock from one area of the quarry to another or drive on the road as they deliver rocks to and from construction sites. Purchase rock hauler insurance to protect yourself, your truck, your business and your assets.
Why You Need Rock Hauler Insurance 
The trucks that haul rocks are typically heavy-duty commercial vehicles. They could weigh as much as 55,000 pounds before they're loaded. Rock hauler drivers are trained professionals who are skilled at operating the truck. However, there are dangers in rock hauling.
The trucks are heavy and require longer stopping distances, especially in inclement weather.
Back-up accidents are common due to limited visibility.
The large trucks could easily roll over under certain conditions.
The load of rocks can shift or escape the truck and cause property damage or physical injuries.
Because of these potential hazards, rock hauler insurance is essential for operators. Whether you own and operate a single truck, drive for a delivery company or own a fleet of rock haulers, protect yourself and your assets with insurance. It covers your liability in the case of an accident.
What is Covered by a Rock Hauler Insurance Policy? 
When purchasing a rock hauler insurance policy, look for a comprehensive policy. It can include:
Primary liability for at-fault injuries or damages the truck causes to other people or property.
Physical damage if the truck is damaged from a collision, overturn, vandalism, fire or other peril.
Medical payments or personal injury protection for the driver or passenger's medical and other expenses if they are injured during an accident.
Pollution due to greater emissions from large trucks.
Workers' Compensation for truck operators.
General liability for injuries or property damage that occur on your premises.
Umbrella coverage that safeguards your assets.
Cargo coverage for the load.
Always be sure to purchase enough coverage to meet your state's requirements. If you haul rocks to other states, purchase adequate insurance to meet their requirements, too.
How Much Does Rock Hauler Insurance Cost? 
Expect to pay between $4,000 and $14,000 annually for rock hauler insurance. Your premium will depend on several factors, including:
The amount and types of coverage you purchase
How many trucks you insure
Where you operate the trucks
The driver's history and experience
While price is a consideration when purchasing insurance, it's more important to purchase adequate coverage that protects your business and assets.
Contact your commercial insurance company to discuss rock hauler insurance. You'll receive a customized quote that's based on your personalized needs and offers adequate protection