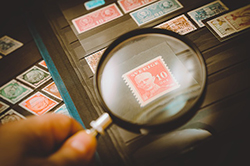 Your collection is valuable to you. Whether your items are family heirlooms, a financial investment or a hobby, protect your treasures with collectibles insurance. To ensure you purchase adequate insurance coverage, use these resources to find the value of your collectibles.
Gemr
Founded by collectors and designed for collectors, Gemr focuses on the collector's journey of acquisition, discovery and appreciation. This means you can learn the value of your items, connect with like-minded people, display your collectibles and buy and sell items.
Go Antiques
Discover your collection's value and history then browse virtual warehouses filled with collectibles from over 1,000 dealers worldwide. You'll gain valuable information about your collection and have fun.
iGuide
Created to answer the question, "What's it worth?", iGuide.net lets you search through thousands of listings. Use the site to identify your items, authenticate them and find their value.
Kovels
Search the price guide on kovels.com to find out what your collection is worth. Then browse the archived newsletters to learn more about the history or your collectibles.
Krause Books
Learn more about your collection and discover its value when you visit krausebooks.com. With this site, you can also connect with buyers and sellers and read current hobby news.
My Granny's Attic Antiques
Use this website to research your antiques, art and other collectibles. Not only will you discover what they're worth, but you'll also learn more about them and gain a greater appreciation for your collection.
thoughtco.com/collecting-4132647
This website offers valuable information on almost any collectible imaginable. Written by collectors, it compiles hundreds of articles that help you discover your collection's worth and learn more about buying and selling pieces.
Value My Stuff
Specialists in over 40 collecting categories will appraise your items and email you an online certificate that verifies your item's value. Simply upload pictures and details of your items.
WorthPoint
Find almost any collectible and its worth when you chat with a professional appraiser on worthpoint.com. You can also connect with other collectors and share information and stories about your items.
For specialized collections, check out these sites.
American Philatelic Society – stamps
Classical Numismatic Group, Inc. – classic, ancient, medieval and British coins
CoinInfo.com – coins and precious metals
Comic Book Collecting Association – comic books
Vinfolio – wine
Warner's Blue Ribbon Books – Swarovski crystal
YuleLog Software – Hallmark Keepsake ornaments and Department 56
Collectibles are often valuable financially and for sentimental reasons. Protect your investment with adequate collectibles insurance. Learn more about the value of your collection by visiting these websites or talk to your insurance agent.