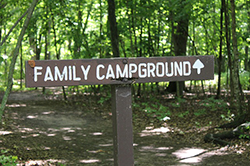 As the owner of a campground, you have the responsibility to protect your campers, their guests and their property. Insurance for campgrounds gives you the protection you need.
Eligible Campgrounds
Almost any private or publically held campground, RV park or cabin rental business is eligible for insurance for campgrounds. Your facility can also be insured if you offer amusement options such as:
Swimming
Boating or canoeing
Golf – regular or mini
Playgrounds
Horseback riding
Hiking, biking or walking trails
Inflatables
Types of Insurance for Campgrounds

Select from several common types of insurance for campgrounds. Your insurance agent will provide you with additional information about each type and which coverage your campground needs.
General Liability Insurance
General liability insurance covers the property damage or bodily injury expenses that result from negligence or an oversight that's your responsibility. Additionally, your general liability policy can include optional coverage for:
Liquor liability
Fireworks liability
Personal and advertising injury
Non-owned watercraft up to 51′
Transmissible pathogens coverage
Property Insurance
Property damages to your campground can be expensive to repair. Property insurance pays for a variety of damage and can cover challenges such as:
Equipment breakdowns
Vacancy clause
Damage to pavilions, shelters, tent platforms, boat racks and permanently installed playground equipment
Emergency vacating expenses
Business interruption
Communicable disease
Food contamination
Commercial Auto Insurance
The vehicles you drive for business around the campground or elsewhere must be covered with a commercial auto insurance policy. Your private insurance will not pay for expenses if you are in an accident or cause property damage in your business vehicle. You can use this coverage for vehicles you own or hire, and it covers trailers you may need to transport, too.
Workers' Compensation Insurance
If your employees suffer an injury or illness while performing work-related duties, you will want to pay their medical treatment and other expenses. Workers' Compensation insurance covers these expenses. Requirements vary by state, so discuss your specific campground with your insurance agent as you purchase adequate Workers' Compensation.
Theft Insurance
When something is stolen from your campground, you will have to pay to replace it. Theft insruance covers this expense.
How to Purchase Insurance for Campgrounds
Your insurance agent will assist you in purchasing insurance for campgrounds. You will want to fill out an application and provide photos of your campground, financial records for the last five years and other information as required by your insurance company.
Insurance for campgrounds is a valuable purchase that protects your business and personal assets. Be sure your policy is updated and includes adequate coverage for your needs. Your insurance agent will help you choose insurance for campgrounds that's right for your facility.