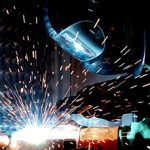 Welders can use over 100 different processes to join or cut metal. As a welder, you work around hot metals and tools in a variety of hazardous locations. To protect yourself, your business and your personal assets, purchase welders insurance.

Types of Welders Insurance
Insurance for welders includes general liability and other options. Understand the types of welders insurance available to you as you select the coverage that meets your unique needs.
General Liability
General liability gives you a variety of protections. It also grows with your business as you expand services, land larger contracts or hire employees.
Bodily Injury
If a customer visits your shop and is burnt by a flying spark or touches hot metal, your bodily injury insurance will cover related medical expenses.
Medical Expense Limit
Customer injuries sometimes don't require extensive medical treatment. Medical expense limit coverage pays for related injuries and allows you to avoid admitting any fault for the injury.
Property Damage
While welding a customer's boat, sculpture or metal barn, you may damage it. Property damage insurance pays to repair the damages or replace the damaged property.

Products and Completed Operations Coverage
The welded products you create, manufacture or sell could injure a customer or cause someone to get sick. Products and completed operations insurance covers any related medical care.

Personal and Advertising Injury
Someone could claim that you stole their intellectual property or made false accusations or slanderous statements about them. Personal and advertising injury insurance covers lawsuits related to these charges.
Damage to Premises Rented to You
Many welders own their own shop, but you may occasionally need to rent work space. If you damage that space, you are responsible to pay for repairs. Rental damages liability coverage pays these expenses.
Business Owners Policy
Also known as BOP, a business owners policy is customizable coverage for your specific business. Options you can choose include:
Buildings and Contents for a stationary or mobile shop
Business Income and Extra Expense
Electronic Data
Employee Dishonesty Coverage for fraud or theft
Equipment Breakdown
Newly Acquired or Constructed Buildings
Business Auto Insurance
Cover the vehicle you use for work with your business auto insurance. It covers property damage and bodily injuries if you or an employee is involved in an auto accident while driving your business vehicle.
Workers' Compensation Insurance
Protect your employees with Workers' Compensation insurance. It pays for medical and other expenses if an employee suffers a work-related injury or illness. This insurance could also be required if you work as a self-employed, independent contractor.
Welders insurance protects your business and assets. Discuss your business needs with your insurance agent as you purchase adequate insurance coverage.