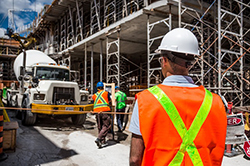 Your construction business depends on independent contractors who may perform a variety of tasks, including demolition, installation or painting. Because your business depends on quality work performed in a timely manner, use seven tips to ensure you hire reliable independent contractors.
1. Preview previous work.
Check out jobs the independent contractor has already completed. Do they match the scope of your project and meet your quality standards? If so, you can assume the independent contractor will successfully complete your job, too.
2. Do a background check.
Your reputation, business and future career could depend on the work your independent contractors perform, and you could be liable for their actions on the job site. For these reasons, perform background checks and assess the independent contractor's work history and any recent criminal charges.
3. Check insurance paperwork.
As you must carry contractors insurance for your business, independent contractors must also carry insurance. Inspect their paperwork to ensure they're adequately insured for construction site hazards.
4. Complete a W-9.
Independent contractors are not employees, and according to IRS rules, they must complete a W-9. This form includes their name, address and Social Security number (SSN) or Employer Identification Number (EIN) and indicates that they are exempt from tax withholding. Reliable independent contractors will readily agree to sign a W-9.
5. Discuss Form 1099-MISC.
The IRS mandates that you must file Form 1099-MISC for all independent contractors who make $600 or more per year. If the independent won't give you a current address or asks you not to send this form, that's a red flag that could indicate they are not operating their business according to federal laws, and you should find a different contractor.

6. Sign a contract.
A contract is an agreement between you and the independent contractors you hire. It contains details about the project such as the timeline for deliverables, payment schedule and work expectations. It also includes a statement about the independent contractor's status, a nonsolicitation clause and a right to terminate the contract for term violations. Because a contract protects you and the independent contractors you hire, only work with contractors who will sign a unique contract for every project.
7. Pay via invoice only.
Independent contractors will submit invoices to you when the job is finished. Only pay those invoices, not other expenses that are the independent contractor's responsibility. At the end of the year, make sure the invoices you've paid coordinate with Form 1099-MISC.
Hire reliable independent contractors for your construction business when you use these seven tips. For more assistance, talk to your insurance agent or business consultant.