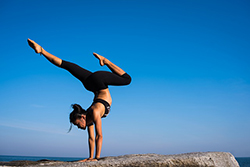 According to the forth-quarter 2010 Principal Financial Well-Being Index, 43% of American workers cite the achievement of better overall health as the number one reason they would or do participate in a wellness benefit program. In second place, with 33%, was the reduction of personal health care costs. In third place, with 31%, was the increased chance of living a healthier and extended life.
The Principal Financial Well-Being Index is released by the financial services provider, Principal Financial Group. This is a quarterly survey of American workers from American businesses with between 10 and 1,000 employees. The findings of the fourth-quarter 2010 survey involved data from 528 retirees and 1,159 employees.
Some key points from the survey included: 
When offered by an employer, blood sugar screenings had an 84% utilization rate. This was an 18 point increase from 2009 statistics.

When offered by an employer, weight management programs were utilized by 53% of employees. This was a 25 point increase from 2009 statistics.

When offered by an employer, personalized action plans for conditions considered high-risk were utilized by 68% of employees. This was a 21 point increase from 2009 statistics.
Some credit rising health care costs and more public awareness about diseases such as heart disease and diabetes with American workers being more ready to take action toward their own health. None the less, as evidenced by the substantial increase in how many workers are taking advantage of wellness benefits, there is clear indication that there's a growing element of employees taking more personal responsibility for their health.

Employers Can Benefit From Wellness Programs Too 
Personal responsibility might drive employee participation in wellness programs, but employees have much to gain from offering wellness and encouraging its usage. During the index, workers said the following occurred as a direct result of the wellness program offered by their employer:
Forty-three percent felt they were motivated to perform better and work harder.

Twenty-eight percent said they were absent fewer days from work.

Thirty-eight percent said they experienced improved productivity and energy while at work.

Forty-eight percent said that the offering of wellness benefits encouraged them to remain with their current employer.
In closing, this research is echoed by countless other studies showing employers that invest in the wellness of their employees by offering them the means and the educational resources they need to control their own wellness not only gain physically healthier employees, but also productivity and cost-saving increases.