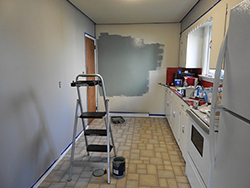 Bidding on residential remodeling projects requires accuracy. With an accurate bid, you show your competence and make a viable living. Consider five//// tips that help you estimate an accurate remodel bid.
1. Become familiar with the client's house.
Whether you're bidding on your first or fiftieth remodel project, you must do a thorough walk-through of the home. You're better equipped to give an accurate bid when you know exactly what the house looks like and what the job entails.
During your walk-through, look for details like the room dimensions, desired materials and job scope. You should also consider any complications like an older heating system or the possibility of mold.
2. Be clear about the homeowner's expectations.
Talk to the homeowners to ensure you understand exactly what they want and expect. When you're on the same page, you can create a bid that includes everything they want.
3. Calculate all costs related to the project.
It's easy to forget important details when preparing a remodel estimate. Consider these often underestimated or overlooked expenses.
Materials
 – Does the homeowner want high-end or recycled materials? How many materials will you need for the project?
Labor – How long will the job take, factoring in inevitable delays? Will you do all the work yourself or hire independent contractors?
HVAC system – Will the home's existing HVAC system interfere with the project or need to be reworked in any way?
Electrical – Are any electrical updates or changes required?
Home maintenance – What are the costs associated with removing dust and dirt from the home during the remodel project?
Demolition and hauling – How extensive is the project's demolition and hauling?
Special equipment – What types of tools do you need to rent for the project?
Overhead fees – What types of filing, copying or accounting fees will the project entail? How much will insurance and any required construction bonds cost?
4. Ensure the bid is profitable for you.
Remodel jobs can include a profit margin of as much as 20 percent, but if your bid is too low, you could earn as little as three percent. Crunch the numbers at least twice to ensure you can stay in business and provide for your family.
5. Submit your bid personally.
Show that you're dependable and hands-on when you submit your bid in person. This step also gives you a chance to discuss the bid with the homeowners. You can explain charges and answer any questions as you equip the homeowners to make an informed decision.
With these five steps, you submit bids for remodel projects that are accurate. You can then build a successful construction career.