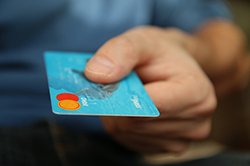 As a small business owner, you accept credit cards because it's convenient for your customers and a smart business decision. You could be overpaying for your credit card processing privilege, though, which puts your business's financial security at risk. Every month, evaluate your credit card processing statements and take six steps to avoid overpayment.

1. Check each statement carefully.
It's tempting to glance at your credit card processing statement and simply toss it on the "to be paid" pile. You must take time to review it carefully, though. Look for data entry mistakes, incorrect charges or mislabeled transactions. If you're not sure what to look for, review your merchant agreement or ask your accountant or CPA for assistance.
2. Look for details.
A statement that merely lists the amount of money you processed and the amount you owe is not detailed enough. You need to know that you're being charged according to your agreement, so you should see the number and volume of transactions and the tiered, interchange plus or interchange with membership rate for each type of card you accept.
3. Note any lowered fees.
Maybe you notice that some fees have decreased since last month. The credit card processing company could have lowered the fees because of a debit rebate on your plan or as a way to keep your business. Be aware that lowered fees could include hidden charges that outweigh the savings.
4. Know the access fee.
Visa and MasterCard charge an access fee per transaction. While it's typically less than two cents per transaction, your credit card processing company could boost the fee by several cents without notifying you. Depending on how many credit card transactions your process, even a small increase could cost you hundreds of dollars annually.  Always know the access fee and ensure it's accurate on each statement.
5. Watch monthly and annual fees.
Your credit card processing company will charge various fees each month. If the statement, PCI, regulatory and other fees adds up to more than $300 per year, you could be paying too much for the service.

6. Evaluate your plan options.
Your small business may have outgrown the plan you picked when you signed your credit card processing contract. Review your credit card transaction history and sales. You may benefit from switching plans or even companies as you save money and accommodate your business's needs.
Accepting credit card payments is wise for your small business, but you must know how to read your monthly credit card processing statements to reduce your risk of overpayment. Contact the credit card processing company with questions or ask your accountant or CPA for assistance.