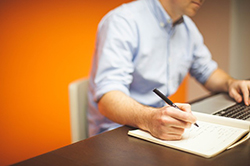 Your home-based business gives you flexibility and fulfillment. However, you're responsible for any damages you cause and any accidents that occur because of your business activities. Without the right liability insurance, you risk losing your business, home and personal assets. Evaluate your liability insurance options as you protect yourself.
Examples of Home-Based Business Liabilities
Every day, you face general and professional liabilities your standard personal home insurance policy will not cover. Consider five scenarios.
Accidents – A client trips down your stairs after her catering consultation and injures her ankle. Your homeowners insurance policy will not cover treatment for those injuries.
Data – As an financial planner, you store sensitive information on your home computer that's compromised by a hacker. Unfortunately, your homeowners insurance policy will not compensate you for any lost data or resulting damages.
Damage you cause – You accidentally break an expensive antique vase while leaving a client's home, or someone trips over your computer bag as you work at a local coffee shop. Your homeowners insurance will not cover your financial liability.
Libel or Slander – A blog post you write contains inaccuracies about a local business leader, and she sues you for libel, or you share confidential information about a client at a networking event and are sued for slander. Any related expenses are your responsibility.
Economic damage – The business report you write for a local company contains inaccuracies that cause the company economic damage. You are responsible for all associated financial costs.
Negligence – You forget to include peanuts on your homemade cookie labels, and a customer has an allergic reaction. You could be sued and may have to pay any related expenses.
Home-Based Business Liability Insurance Options
To ensure your have the right liability coverage, first consider details about your home-based business. Its size, type, location and unique liability risk are all factors that determine which type and how much liability insurance coverage you need.
You are now ready to consider your liability insurance options.
Homeowners Insurance Endorsement
Add an endorsement or rider to your existing homeowners insurance policy to cover your business assets. It typically provides $2,500 to $5,000 in coverage and generally costs less than $100 per year.
Home Office Business Policy
Gain business liability coverage with a home office business insurance policy. It features protection against lawsuits from injuries, covers loss of records, and includes personal liability coverage.
A comprehensive Business Owners Policy or BOP covers numerous liabilities, including business data, on-premises and off-premises liability, and personal and advertising injury.
Protect your business, home and personal assets with the right liability insurance. Discuss your specific business with your insurance agent today as you ensure you have adequate coverage.