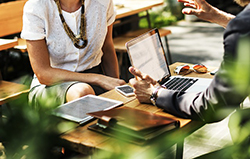 The growing trend of staying competitive by using the mobility and freedom provided by technology can often be a double-edged sword. Although taking your show on the road to off-site business meetings is a lot more efficient and easier when everything you need to make an eye-catching presentation is right there on the laptop, the mobility of technology does open the door to losses from theft.
Here are some simple loss prevention practices that employees can adopt to ensure their laptop stays safe and secure at and away from their worksite:
Carry the laptop in a case that doesn't standout or scream expensive technology with logos or emblems. The idea is that only the carrier knows the case contains a computer. To bystanders, the case could be full of useless papers or files.
When traveling, use the hotel safe to store your computer. Never leave an unattended computer in a hotel room. Hotels usually warn customers that they aren't responsible for valuables left inside rooms. And, don't think that a locked room door is a sufficient safeguard. Maid services routinely leave rooms wide open as they're being cleaned, meaning a passer could easily swipe your computer while the maid is busy cleaning the bathroom.
Never leave a laptop on the seats or otherwise in plain view in a vehicle, even a locked vehicle. Trunks are also a highly-targeted area for thieves, as many assume this is where most people will try to secure their valuables. Whenever possible, take the computer with you or leave it in a more secure locked location.
Make sure that your laptop will be secure during breaks if you're at an off-site meeting. Ask if the various entrances and exits will be locked during breaks and then observe to make sure the room is indeed secure before leaving your laptop. If any question, then carry your laptop with you.
Avoid checking your laptop as luggage during flights. There's too much opportunity for it to be stolen or damaged. Remove the laptop from its carrying case and give it to the guard before you go through the airport security metal detectors.
Write down the serial number, make, and model of your laptop and keep this information separate from your laptop.
Even in your own office, you need to make sure that you store your laptop in a secure location when you aren't using it, take lunch, or need to run to another area of the building. A good rule is to lock up your computer if you can't directly see it from your location.
Of course, the physical computer isn't the only loss you can suffer. Keep a regular data backup schedule to prevent lost data due to equipment failure. It's also prudent to minimize how much intellectual property or proprietary data is stored in the hard drive.
Have a password system (preferably two-tiers) or a data encryption feature to protect your data.
Lastly, you might consider asking your employer to arm your laptop with a tracking device as a last line of defense. Tracking devices for computers operate much like a LoJack system does on your car. Once the software is installed on the computer, it will run in the background without you even knowing it's there. Meanwhile, the program routinely reports the IP address your computer is using and who logged into it to the security company. In the event you report your laptop stolen, the security company can remotely change how frequently the above information is fed to them. Unbeknownst to the thief, the security company is tracking his/her location every time the computer goes onli