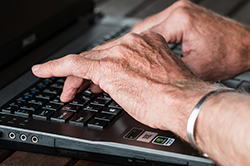 As many as one in five office workers fall prey to phishing incidents, but 14 percent of office workers don't recognize phishing attacks. Learn more about phishing and how to combat attacks on your personal or company email.
What is Phishing?
Phishing is a scam that cybercriminals use to gain access to sensitive information. It often occurs via email. The cybercriminal will send you an email that looks official but actually includes spyware, malware or other malicious software. When you open the link or download the file from the email, the criminals can access confidential information like bank account information, your social security number and other data. In many cases, you never know that your information has been compromised.
How to Recognize a Phishing Email
Phishing emails are designed to look authoritative so that you will open them and give the cybercriminal access to your computer. While these emails often look like they're from a real company, you can usually recognize them via five signs.
Sender Address

Before opening any email, look at the sender's address. It may look similar to the official company's address but could be slightly off. For example, it may use dot-net instead of dot-com or include a small spelling error like micrsoft or mircosoft.
Graphics

Cybercriminals do a great job of imitating the graphics of popular companies. However, the logo, colors or design may be slightly off in a small way.
Spelling and Grammar Errors

Most companies and organizations employ a team of copywriters who write professional content that's typically error-free. Emails with spelling or grammar errors, are possibly phishing schemes.
Links

Email links are a cybercriminal's primary phishing tool. You can hover your mouse over any links and verify that it matches the address of the email's sender, a sign that the link is safe.
Threats

Cybercriminals use threats and fear to manipulate consumers. They may say that you will lose money, face criminal charges or suffer another devastating consequence if you don't open the email. In most cases, these threats are meant to incite fear and get you to comply with their complicit wishes.
Steps That Protect Your Email
You can't prevent cybercriminals from targeting you. However, you can take steps to protect yourself.
Install spam filters and virus scans.
Learn to recognize phishing emails.
Only open email links from verified and trusted sources.
Delete any emails that look suspicious.
Train coworkers and associates to recognize phishing threats.
Purchase cyber insurance that protects you if you are a victim of phishing.
You can't stop cybercriminals from targeting your email, but you can use these tips to protect yourself and your data.