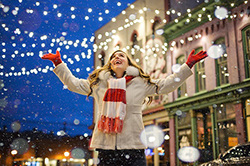 This year's hottest holiday gifts include technology, travel and aromatherapy. While these items provide temporary enjoyment, why not give a gift that lasts a lifetime and beyond?

Consider the gift of life insurance this holiday as you care for your loved ones.

Provide for Your Family

Life insurance provides financial support for survivors after the policy holder dies. They can use the death benefit to cover daily living expenses, pay for college or repay debt. Purchase a policy for yourself, your spouse or a loved one, and secure your family's future.

Honor a Loved One

Your loved one may feel especially fond of a specific charity, university or other organization. Name that organization as the beneficiary of a life insurance policy, and your loved one's memory lives on after their death.

Support a Loved One

If a loved one or friend can't afford life insurance, purchase a policy for them. Or buy a new policy for yourself and name someone you love as your beneficiary. In this way, you support a loved one.

Take Advantage of Lower Rates

When you purchase life insurance while you're young, you pay lower premiums. Now's the best time to buy a life insurance policy for you or your loved one.

Plan Your Estate

You can use a life insurance policy as part of your or a loved one's estate planning strategy. Life insurance payouts are not subject to taxes unless the policy accrues interest, making it an ideal addition to an estate.

Which Type of Life Insurance Should you Give?

Choose from several life insurance options. Examples include:

Whole: Accrue cash value that you can borrow from to pay almost any expense with this permanent policy that's in effect until you die.

Universal: Change the death benefit or cash value as needed while you own this permanent life insurance policy.

Term: Gain coverage for a certain number of years normally with no annual health exam.

How Much Does Life Insurance Cost?

Analyze the recipient's age, health and financial needs as you choose the right life insurance policy for your loved one. Healthy adults can pay as little as $10 per month for term life insurance. Whole life insurance policies cost more than term life policies but provide longer coverage.

Also, keep in mind that life insurance premiums must be paid regularly or the policy could lapse. Be sure you or the recipient can maintain payments.

Life insurance provides peace of mind and financial resources after death. Consider giving the gift of life insurance to your loved ones this holiday. For assistance buying the right policy for your needs, talk to your insurance agent.