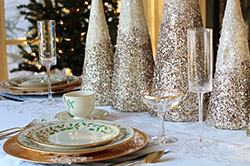 Company holiday parties give your employees the chance to relax, network and have fun. You could be liable for your employees' drinking, though. Learn more about your liability and ways to protect yourself as you prepare for your holiday party.
Check Your Company Insurance Policy
The majority of states have liquor liability laws that apply to anyone who serves alcohol. If one of your employees drinks too much and gropes another employee or causes a car accident after the party, you could be sued. Check your company's general liability policy and employment practices liability insurance policy with third-party coverage to ensure you have adequate liability coverage.
Ask Employees to Review the Employee Manual
The company's employee manual should include details about employee behavior at company events. It includes their responsibility to behave properly and any penalties for over-imbibing. As employees RSVP to the party, ask them to review the policy.
Serve Food
Unique appetizers, hearty entrees or a dessert bar can distract employees from drinking. Plus, eating before drinking reduces the effects of alcohol.
Focus on Fun and Games
Instead of prioritizing drinking, plan fun and games. Hire an entertainer,  host a karaoke or dance-off challenge, or perform team-building activities. When the main focus of the party is fun, your employees won't have time to drink all night.
Be an Example
If you plan to drink at the party, limit yourself to one beer, cocktail or glass of wine. Ask other managers and the party's planner committee to be examples of moderation, too.
Provide a Cash Bar
Employees are more likely to drink too much if they don't have to pay. You can cover the food, entertainment and non-alcoholic beverages, but let them buy their own alcoholic drinks.
Offer Non-Alcoholic Options
Include several interesting non-alcoholic beverage options on your menu. They're fun to drink and encourage sobriety.
Hire Trained Bartenders
Trained bartenders can recognize when a person has reached their limit. They also will card interns or any employees who looks underage, which reduces a big alcohol-related liability.
Use a Drink Ticket System
Limit access to alcohol when you give employees a set number of drink tickets. When they reach their limit, they can't order any more drinks.

Close the Bar
An limitless open bar invites overindulgence. Open the bar a short time then close it for the night as you protect employees from drinking too much.
Pay Cab Fare
Ensure employees arrive home safely when you pay cab fare. You can even call cabs for employees.
Before your holiday party, discuss your liability insurance coverage with your insurance agent. Be sure you're covered as you prepare to have fun.