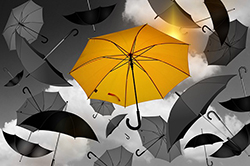 Insurance protects your small business from a variety of liabilities and losses. While you already pay for commercial liability, auto and property insurance, learn how umbrella insurance can help your business, too.
What is Umbrella Insurance?
Umbrella insurance is a policy that kicks in when you max out the limits of your primary insurance policies. It expands your liability and general commercial insurance coverage and may cover incidents your primary insurance doesn't cover. Plus, it gives your business a layer of protection that increases your peace of mind if you ever face catastrophic insurance losses.
How Does Umbrella Insurance Work?
When you file an insurance claim, the insurance company will cut you a check for the damages or loss. Unfortunately, your primary insurance policy limits may not cover the entire claim, or you may face multiple claims from a single accident or mistake. In these cases, your business could face financial obligations that threaten your company's assets and future.
An umbrella policy can cover that difference. It protects your business.

What Does a Commercial Umbrella Policy Cover?
Your small business could be responsible to pay for significant liabilities, including property damages, medical bills and legal fees, after an accident. Here are a few common situations your small business may face.
A customer suffers an injury from a defective product and requires extensive medical treatment.
An employee causes an auto accident while delivering products, and now your company faces large property damage and bodily injury liabilities.
A vendor slips on stairs while visiting your property and sues for physical injuries.
You fail to follow through on a contract, resulting in a lawsuit.
In each of these scenarios, you may file an insurance claim through your primary coverage, and then you can trust your umbrella insurance policy to cover any excessive charges your primary insurance doesn't pay.

How Much Does Commercial Umbrella Insurance Cost?
Typically, you can purchase a commercial umbrella insurance policy for several hundred dollars annually. Many small business owners want to save money, which may prompt you to avoid this valuable insurance. However, consider the benefits a commercial umbrella policy provides and the amount of money it could save you in the long run, especially if you face a large lawsuit or other liability claim.
How Can Your Business Purchase a Commercial Umbrella Policy?
Talk to your insurance agent about your specific needs. Provide details about your business, such the services you offer, number of employees, financial needs and past claims, as these details can affect the type and amount of umbrella insurance you need.
With a commercial umbrella insurance policy, you protect your business. It gives you peace of mind and security.