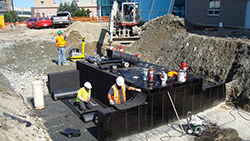 The construction industry relies on skilled tradesmen who specialize in different jobs like plumbing, electrical or drywall installation. As a contractor, you may hire dozens of tradesmen for a project. Assess a tradesman's skill, experience and qualifications in several ways as you ensure the job is done right.
Ask for References
A plumber may say she has experience repairing water treatment system pipes, but you must verify her experience before you hire her. Contact the references she provides and ask about her quality of work, reliability and timeliness. Use this information to decide if the subcontractor is right for your specific project.

See Proof of Insurance
If a tradesman installs the wrong material or otherwise delays the construction project or damages the existing building, you could be liable. Ask the tradesmen you hire to verify insurance coverage, and keep a copy of their current business owners or liability policy in your files.
Evaluate a Tradesman's Subcontractors
The tradesmen you hire may employ subcontractors, too. Assess these subcontractors as you verify that everyone on the job site will maintain high-quality work and safety standards. If you cannot personally vet the subcontractors, include a clause in the contract stating that the tradesmen are responsible for the actions and behavior of their subcontractors.

Sign a Safety Policy Agreement
Because every construction site includes safety risks and potential hazards, you will need a safety policy agreement for each project. It outlines specific job site risks and details ways to reduce accidents, and you and the tradesmen will both review and sign the agreement.
Agree to a Contract

You and the tradesmen you hire should agree to and sign a contract that includes details like the work requirements, timeline and payment. Prepare new contracts for each project and tradesman, store a signed copy in your records and provide a copy to the tradesman.

Perform Regular Assessments
You may work with the same tradesmen for years, but you should still perform regular assessments for each new project. These assessments ensure that the tradesmen you hire continue to provide quality work and maintain a safe environment.
Monitor the Job Site
While your assessment of tradesmen is important, continue monitoring the job site. Be sure your tradesmen continue to comply with their contract. If you see concerns or violations, address the tradesman directly and ensure changes are made. With regular monitoring, you catch problems while they're still manageable and keep the project operating smoothly.
Your construction business relies on a variety of skilled tradesmen. Assess each one carefully as you produce quality work, maintain safety and protect your reputation and business.