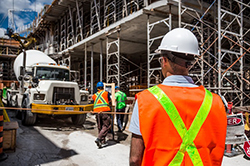 In your construction business, you use vehicles every day and insure them with commercial auto insurance for construction vehicles. Unfortunately, accidents can happen as you drive on the road or operate the vehicles on a job site. Utilize several safety tips as you protect your construction crew, fleet and company.
Create a Vehicle Operating Policy
Your employee handbook should include your company's policy for proper vehicle operation. It will include details about driver expectations and safety procedures. Include any information your insurance company requires, too. With this policy, you help your employees understand safe driving practices and minimize accident risk.

Inspect Vehicles Annually

The pickup, dump and flatbed trucks you operate on the road must be inspected annually before you and your employees may legally drive them. Schedule inspections and any required emissions testing with a qualified inspection station. For the excavators, cranes, bulldozers and other vehicles in your fleet that don't require an annual inspection, implement regular maintenance checks to ensure these vehicles operate properly. Keep accurate and updated records of every inspection as you prove that you've met your legal obligations, prioritize safety, and protect your employees and company.

Train Employees
Your employees must know how to operate vehicles safely before they start the engine. Give every employee an operating exam, and retest annually as you verify that they can safely operate the vehicles on the road or job site.
Between annual exams, provide trainings on safe operating procedures. Every employee should know defensive driving techniques, all Department of Transportation (DOT) guidelines, job site safety procedures and what to do after an accident.
Establish a Troubleshooting Reporting Procedure
While your employees may operate your fleet vehicles, you ultimately hold the responsibility for the vehicles' safety. Set guidelines that outline how your employees should report any issues they find as they operate the vehicles. Employees should know where to find the forms, how to complete them and where they should be delivered. You must then follow through and fix any reported problems.
Conduct Risk Management Surveys
To promote safety, you should know and minimize as many risks as possible. In addition to educating operators on the risks of the specific vehicles they operate, monitor drivers as you identify and address risky behavior. Be aware of risks on the job site, too, such as loose dirt, drop-offs or right turnarounds, as you keep your vehicles and employees safe.
Your construction vehicles provide invaluable service for your business. Take proactive steps to keep your fleet in top working order and equip your employees to operate those vehicles safely. For more safety tips, talk to your construction insurance agent.