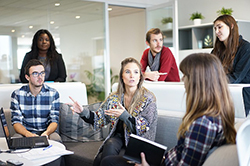 After spending 40 hours a week together at work, you and your coworkers may become close friends. Unfortunately, certain conversation topics can cause awkward situations and increase stress, decrease productivity, motivation and performance, and threaten your job. Protect your health and career when you avoid talking about these topics.
Politics
Whether you avidly follow or purposely avoid politics, political conversations should be off-limits at work. The subject ignites tempers and undermines team spirit.
You may announce that you vote. However, avoid candidating for a specific party, and change the subject if your coworkers introduce the topic.
Pay Rate and Benefits
Under federal law, you may openly discuss your pay rate, insurance coverage and other benefits with coworkers. These discussions may benefit others if they lead to equal pay for equal work, but they could also cause hard feelings and hinder cooperation.
Discuss your paycheck and benefits only if the conversation will benefit your team, and never brag about or belittle someone else's paycheck. Always err on the side of respect.
Personal Relationship Problems
Maybe your spouse stopped sleeping with you or your child is bullied at school. Share these personal relationship problems at work, and you undermine your authority as a supervisor or manager. The information could also fuel the rumor mill or anchor a sexual harassment complaint.
Restrict personal conversations to neutral topics. Then discuss and resolve your personal relationship problems outside of work.
Health Concerns
You may decide to tell your coworkers about your struggle with chronic pain or depression, especially on challenging days. Consider how your health concern affects your reputation and even your ability to promote, though.
If you must share health information, don't talk daily about your challenges or discuss every detail. Rely on your family and friends for support and focus on your job when you're at work.
Career Aspirations
Career aspirations can motivate you to better yourself. Your coworkers may question your loyalty or resent you, however, if you share your goals with them.
Tell your boss privately that you want to move up the ladder. Then do your best work every day as you demonstrate that you're a team player and committed to the company's success.
Religion
Faith is a personal and sensitive subject. Even an innocent comment about church or a holiday can make your coworkers feel uncomfortable.
While you can mention your faith, avoid in-depth religious conversations. Take care to never belittle or disagree with someone else's beliefs, and don't try to convert anyone.
The conversations you have at work influence your job performance, reputation, success and health. Aim to promote respect, cooperation and peace as you talk to your coworkers.